Hello everyone! Welcome to
December
, we hope you're staying warm and moist this winter!
Our 42nd month of limited shops has arrived:
December's theme is the Luminous Technomancer!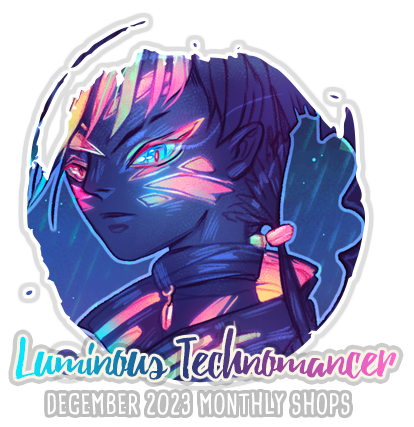 Flashes of vibrant light careen past at breakneck speed, their colours blurring together amidst heavy rain. A strange chaos of sights and sounds clouds your vision.
See Full Item Previews here.
What are Turnips & Monthly Shops? Click here for information!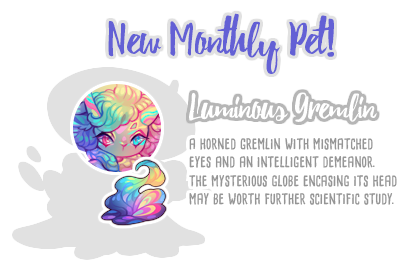 This month we have a special treat, 
a new pet species
 has arrived in 
Pai's Shop of Wonders
!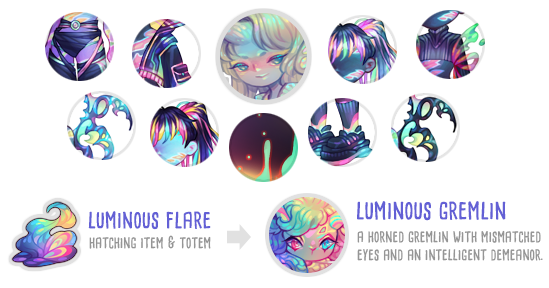 Pai's Shop of Wonders
Pai's Shop of Wonders
is stocking these 
9 clothing items
 for 
200 turnips
 each, and 
500 turnips
 for the hatching item.
A chest containing all 10 items is available at 
1900 turnips 
 - a discount of 
400 turnips
!
Luminous Technomancer ♦ Pants, Jacket, Bright Pigtails, Blouse, Platinum Wings, Onyx Pigtails, Chemical Pool, Boots, Gunmetal Wings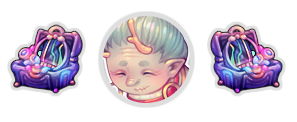 Agnes' Perpetual Shop
Agnes' Perpetual Shop
stocks a chest that contains a set of
Pai's 10 shop items
 for a discounted 
1900 Turnips.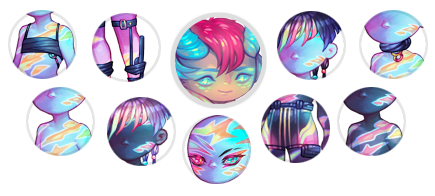 Oran's Emporium
Oran's Emporium
is stocking these
9 clothing items
this month for
9,000 potatoes
per spin!
Luminous Technomancer  ♦ Tank, Leg Straps, Ocean Mullet, Collar, Skylight Skin, Opal Mullet, Appraisal, Shorts, Ocean Skin
These monthly shop clothing items will run until
January 2nd,
 after which they will be removed to house January's monthly items!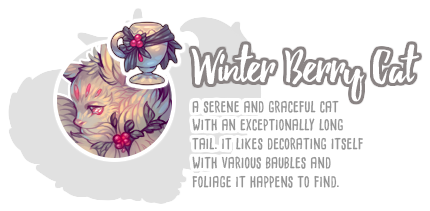 x3 


 x2


With the arrival of the 
Winter 
season, a new 
Seasonal Pet
 has appeared!
The ingredients to make the hatching item can be found in Pai, Agnes, and Oran's shops' Bonus Prize pools.
The item alchemy recipe is available in your recipe book and shown above.
This Seasonal Pet will remain in the shops for 3 months and rotate out at the end of February to be replaced by a pet for the next season.
Seasonal pets are obtainable annually on a rotation! The hatching items can be alchemized at any time of the year.




2022 Winter Shard Pets
The 
Winter Shards
 from 2022 have returned to Pai and Agnes' Shops this year at a flat rate of 500 turnips, and Oran's Bonus Claim. Alchemize
3 Winter Seed
 +
1 Winter Soil + a Mixer Potion
 to create the 
Winter Fruit
 hatching item!


2021 Winter Shard Pets
The 
Winter Shards
 from 2021 have returned to Pai and Agnes' Shops this year at a flat rate of 500 turnips, and Oran's Bonus Claim. Alchemize all 
4 Shards + a Mixer Potion
 to create the 
Winter Stone
 hatching item!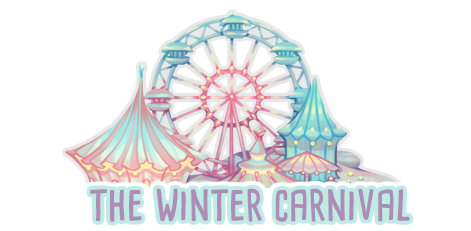 Much to everyone's jubilation, the Carnival has returned!
Visit the snowy northern region to begin your festivities.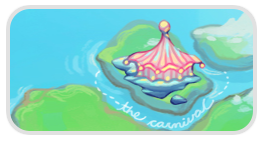 Carnival Duration: December 1st - February 28th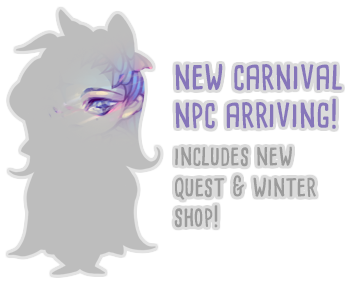 A
Brand New NPC
 will be added to the Carnival in the beginning of January!
CARNIVAL INFO
There are 3 seasonal NPC's in the Carnival. Say hello to Pitre, Cordelia, and Fefin!
Each NPC has their own quest and shop which takes the same event currency - Carnival Tokens.
There are 46 items and 3 pet species to be collected currently!
Each NPC has their own repeatable quest featuring their respective carnival games.


Pitre's "Cards, Jesters, and Destiny" quest!
Cordelia's Lucky Wheel quest!
Fefin's Great Monkey Maze quest!




Each quest will each be completable 4 times a day and grant varying token and decoration prizes depending on how well you do.
Can you unlock all of the secrets and obtain the wiggling achievements?



HOW TO OBTAIN CARNIVAL TOKENS
Carnival Tokens are the currency for the all shops at the
Carnival
and are obtainable in the following ways:
Doing the seasonal event quests in the Carnival
Random Encounters
Random Item Alchemy


VAER'S SEASON
The gentle shadows of the wooded one recede, and the serpent of knowledge turns the tides.

AD THEATER STREAK REWARD
Visit the
Theater
and click on the "
CHECK REWARDS
" button to see the new rewards!

SEPTEMBER ART DEVELOPMENT STREAMS
This month, the art development stream will take place on...
DECEMBER 8TH, 4PM DVT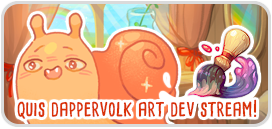 twitch.tv/dappervolk
A status post with a link to the stream will be posted when it begins!
We'll be working on wishes from the 
Wishing Well
 thread.
Hope to see you there!
AVIAR COVE BALANCING & FROG UPDATE
We're diligently at work on the Aviar Balancing and Frog sink content! Here's our current status:
Item & Pet Assets •
 85%
Quest Adjustments • 
45%
Misc Tasks •
40%
QOL CHANGELOG UPDATE
We're just about finishing up testing for our upcoming QoL update, this will be released early this month!
STAFF RECRUIT STATUS
We're currently assembling and beginning the training process for our new staff members, once everyone is assembled we'll be announcing our new teams and updating our staff information! For those who applied, please do check your email if you haven't yet in case you were accepted, thank you!
TRADES MARKET UPDATES
We're still in the process of designing and working on our Trades Market revamp, Pet Accessory Market, and Customs Market. Much of our work is aggregating and compiling all user suggestions that we've received throughout the site's history and deciding on how to work them into our updates in the best way possible.
LONGTERM PERMANENT CONTENT WORK
We've been brainstorming and working on more permanent content behind the scenes such as future towns, revamps to older item pools, and much more with our artist team. Stay tuned for more info as we progress!


As always, thank you so much for playing and supporting
Dappervolk. We'll be back with more updates soon!
...more