Hello everyone, thank you very much for participating in our 2021 Fall Festivities! We hope you enjoyed the event!

Here are some end of event stats you might be interested in!
In total, 3301 users watered 323132 and harvested 30897 plants for Gathering in the Grove!

113 users made 391 submissions in the Creativity Prompt Contest!
270 users made 743 submissions in the Avatar Dress Up Contest!

We really enjoyed perusing all of the creativity submissions this event! From fresh new item combinations in the avatar contest, to glimpses into your world-hoppers lives in artwork or stories and fun real world crafts. We'd like to give a huge thank you to all participants for putting your creative efforts into our prompts and themes.

Here are the different winners we rolled or picked for each contest!

Here are our Staff Team's favourites! 
Click on each thumbnail to see the full submission.



































RAFFLE PRIZE WINNERS
Visit the
thread here
to see all Raffle Prize Winners!

Here are the outfits that won each voting thread!
Click here
to see full outfits.



Blinkini (#50846)♦ Daffy (#58695)♦ lamb (#4187)


Oisin (#5731)♦ Slug (#1484)

RAFFLE PRIZE WINNERS
Visit the
thread here
to see all Raffle Prize Winners!

This event type is one of three event types that we currently have. This is the first iteration of our brand new Gathering event type. We'll be making adjustments to each event type in order to improve them each year.
Here are some plans for improvements for future gathering type events that we've accumulated with the feedback from hosting this event!
When getting a random gatherable, the modal shouldn't refresh the page and interrupt what you were doing, we'll have it work more like random encounters where the page doesn't refresh after your claim.
We want to add some additional mechanics to the existing gathering and watering mechanics that allow you to be more involved in the event.
We'll be making a thread with Seasonal item clothing previews and keeping it updated when new items are released. Permanent content updates will also get their own thread.
We'll be including more clarity on how a set of seasonal quests is unlocked in the future.
Seasonal quest rewards will mostly be event currency from now on to allow for freedom to get the items you want, as well as event achievements and possibly some NPC food.

Seasonal Quest & Content Plans
After a year of various seasonal events taking place, we'd like to provide some info on our planned event progression for the future.
Our major events take place during each of the 4 seasons on Dappervolk annually.
Currently, we're adding new seasonal content for each event that highlights and explores Dappervolk's deities, of which there is one for each month.
This seasonal content (quests, npcs, maps, etc) will be available without its major event type (co-op, gifting, gathering) annually after the year it's released, adding to the plethora of seasonal content that will be available over time.
Our goal is to explore a new deity in each seasonal event until we have seasonal content for all 12 deities.
Once all deities have corresponding content that sheds light on their lore, we'll be exploring other stories within the world of Dappervolk, such as more stories for new and existing NPC's or areas.
This way, we can add more seasonal content to the site and enrich its story and lore along the way!

Our next event will be a
Winter Event
some time in January! We'll be launching the second iteration of our Gifting event type!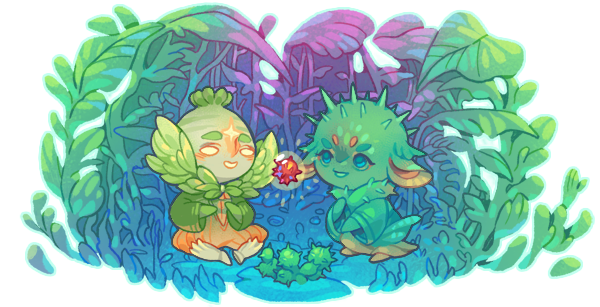 Daybreak in the Grove reveals a newly invigorated Cro, who
waves their carefully crafted map at you as you approach.
They must have stayed up all night copying the succulent
map, but don't seem tired from the work. 

Nodding with understanding, Trout holds Cro tight while
the two say their goodbyes, and Cro's face lights up when
they turn to you. The little sprout thanks you for the
hope you've given them, before returning their gaze to
the parchment in their hand.