Hello everyone, thank you so much for participating in our
First Winter Festivities! We hope you had a great time exploring
the Constellation Library, and getting a peek into the
motivations of the elusive peddlers - Pai, Agnes and Oran.

Here are some end of event stats you might be interested in!
In total, 2744 users participated in wrapping up 113174 gifts in the Winter Tree!

Reviewing the submissions to these contests was a major highlight of the event for us. There were so many amazing entries, ranging from avatars that made us nostalgic, to uniquely beautiful artwork and writing across the bauble and creativity contests. There were even delicious looking pastries we hope their bakers enjoyed!

Here are the different winners we rolled or picked for each contest!

STAFF PICKS WINNERS
Here are our Staff Team's favourites! All of the submissions were amazing to go through and so difficult to narrow down, we had a great time picking them out! 
Click on each thumbnail to see the full submission.


























RAFFLE PRIZE WINNERS
Visit the
thread here
to see all Raffle Prize Winners!


All Agnes Pick winner submissions were added to the
Winter Tree
as bauble wrapping selections! Visit the
thread here
to see all Agnes' Pick Prize Winners!
RAFFLE PRIZE WINNERS
Visit the
thread here
to see all Raffle Prize Winners!

FINAL WINNERS
Here are the outfits that won each round of preliminary voting!



Musicality (#39022) ♦ Leaf (#376) ♦ Totoro (#12108

 




Darkerdemons (#20213) ♦ Leaf (#376) ♦ Avatar (#19967)
PRELIMINARY WINNERS
Here are the preliminary winners and their outfits selected for each round of voting!
VOTING ROUND #1 ♦ VOTING ROUND #2 ♦ VOTING ROUND #3
VOTING ROUND #4 ♦ VOTING ROUND #5
RAFFLE PRIZE WINNERS
Visit the
thread here
to see all Raffle Prize Winners!

Here are some plans for improvements for future events like this that we've accumulated from hosting this event!
For the sake of future gifting events, we'll be working on balancing item rarity better across the site.
We'll be looking into the rarity matching of gift donations vs. claims to see if we can equalize the system better.
We'll be adjusting Pai's daily quest "Perusing the Constellation Library" to have a better indication of unlock progress on the final quest. For future quests with this style of unlock, the progress will also be shown more clearly.
We'll be looking into adjusting the layout of the Winter Tree so that less scrolling is required to see the main content.
We'll be adding easier tracking of the event currencies in the winter tree.
We'll be improving on our contest threads that we tried out this event in order to make the experience better.

Our next event is going to be a
Spring Event
! Before that, we will be working on launching a number of other updates which we'll be posting more info about soon.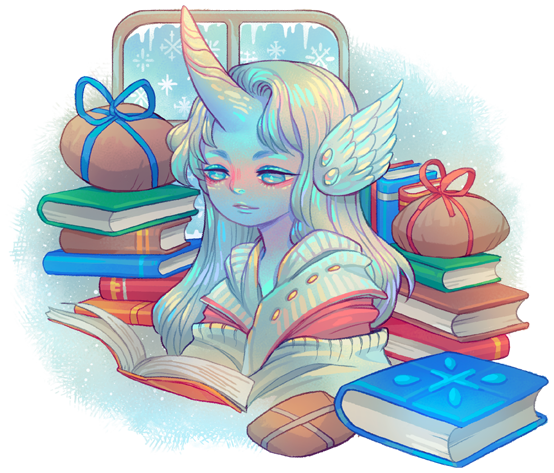 Pai thanks you for your help this winter as they look out at
the last vestiges of frost clinging to the window.
They hope that you'll remain curious and find what you're
looking for, out in the great wide world.