Hello everyone! Welcome to
March
, we hope you're doing alright and staying healthy!
Our 21st month of limited shops has arrived:
March's theme is the Chrysalis Painter!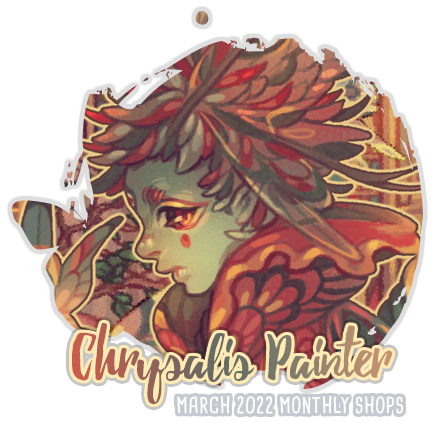 An inquisitive bemusement looks over your presence. Crackling lanterns
and soft plush chairs creak as the rickety shelves precariously hold a
thousand books, soft moth eaten carpets lie beneath your feet.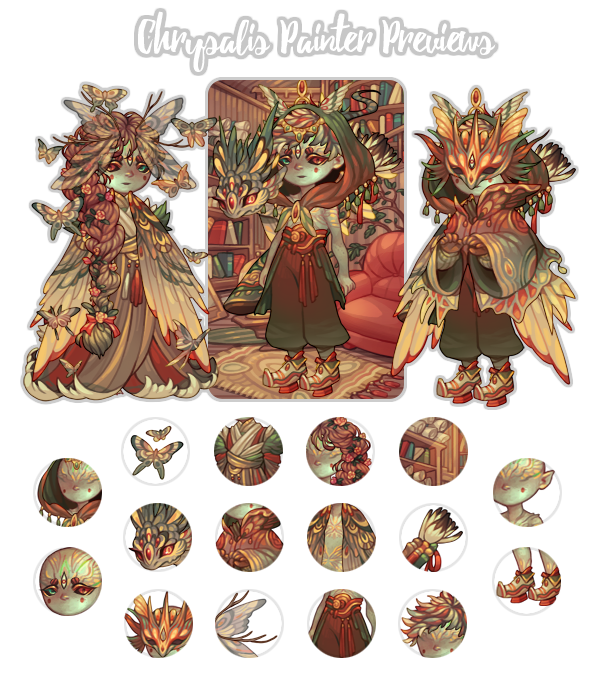 See Full Item Previews here.

Pai's Shop of Wonders
Pai is stocking these
8 items
 this month for
200 turnips
each.
Chrysalis Painter's Flock ♦ Chrysalis Painter Robes
Chrysalis Painter Floral Fishbraid ♦ Chrysalis Painter's Library
Chrysalis Painter's Companion ♦ Chrysalis Painter Coat
Chrysalis Painter Winged Cloak ♦ Chrysalis Painter's Brushes

Agnes' Perpetual Shop
Agnes' Perpetual Shop stocks a chest that contains a set of Pai's 8 shop items for a discounted 1500 Turnips.

Oran's Emporium
Oran is stocking these 8 items this month for
9,000 potatoes
per spin!
Chrysalis Painter Mask ♦ Chrysalis Painter Winged Headpiece
 Chrysalis Painter Trousers ♦ Chrysalis Painter Dyed Bob
Chrysalis Painter's Sight ♦ Chrysalis Painter Hood
Chrysalis Painter Shoes ♦ Chrysalis Painter Skin

These monthly shop clothing items will run until March 31st, after which they will be removed to house April's monthly items!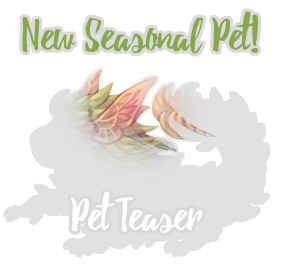 With the arrival of the Spring season as well as the new year, a new type of Seasonal Pet has appeared!
The ingredients to make the hatching item can be found in Pai, Agnes, and Oran's shops' Bonus Prize pools.
Alchemize 4 Spring Seeds + 1 Spring Soil to get the Spring Fruit hatching item!
The item alchemy recipe is available by default in your recipe book.
This Seasonal Pet will remain in the shops for 3 months and rotate out at the end of May to be replaced by a pet for the next season.
Seasonal pets are obtainable annually on a rotation! The hatching items can be alchemized at any time of the year.






2021 Spring Shard Pet
The
Spring Shards
from last spring have returned to Pai and Agnes' Shops this spring at a flat rate of 500 turnips, and Oran's Bonus Claim. Alchemize all
4 shards + a mixer potion
to create the
Spring Stone
hatching item!
AD THEATER STREAK REWARD
This month, the deity of the spiral shell awakens. Visit the
Theater
and click on the "
CHECK REWARDS
" button to see the new rewards!
WHAT WE'RE WORKING ON
Here's a look into what we're prioritizing this month!
MARCH ART DEVELOPMENT STREAM

This month, the art development stream will take place on...
MARCH 4TH, 4PM DVT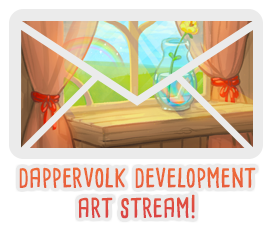 A status post with a link to the stream will be posted when it begins!
We'll be working on wishes from the
Wishing Well
thread. Hope to see you there!
QOL UPDATES
A few QoL updates are ready to be pushed to the site some time this week, including bulk alchemy, a front page latest updates link bar, and various other fixes!
SPRING EVENT PREPARATION
We're planning an overhaul to our Spring Co-op style event to make it feel more truly co-op based. Along with changes to the existing system we're also planning on adding new mechanics to the event for some extra fun. The upcoming Spring event will arrive some time in April, with plenty of new content in store for everyone!
RECIPE BALANCING
We're continuing our work on this update this month, to ideally be ready with it some time in April if everything goes well! For those who didn't see our plans for this update, check the "
Item Reward Pool Expansions
" section in this 
news post
for more info!
QUEST BALANCING
We're working on balancing the dailies in Louise Hill, and are hoping to launch it after April! The update won't just consist of daily errand rebalancing, but will also include new items in every NPC shop within the town. Our plan is to roll out a rebalancing & additional shop stock update for each town in succession.
BETA CHANGELOG & ROADMAP THREAD
These two items are on our to-do list, and will remain here until they are complete!


As always, thank you so much for playing and supporting
Dappervolk. We'll be back with more updates soon!