Hello everyone, we hope everyone had a relaxing weekend and are enjoying the various festivities!


CUSTOM MAKER SITEWIDE LIMIT
We've added a system that puts a limit on how many Custom Makers can be spun on site within each time cycle.
Current Custom Maker Roll Limits
1 Custom Maker can be dropped across the site every 10 days.
1 User can spin a maximum of 1 Custom Maker every 30 days.
Note
:
Either type of Custom Maker counts.
We've raised the drop rate of Custom Makers across the board in all chance machines! 
These rates will be monitored closely and adjusted if the balancing can be improved.
Custom Roll Limits
and cooldowns can be viewed on the front page under
Newest Customs
.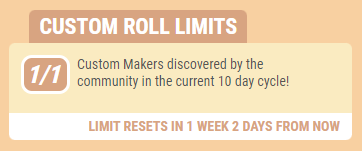 Or on each
Custom Archive
page!

Custom Maker Info Updates
CUSTOM RULES UPDATE
♦ A section has been added at the bottom that outlines what a custom clothing/pet is on Dappervolk.
CUSTOM FAQ UPDATE
♦ The FAQ has been separated into 3 different posts for better clarity, info on Custom Distribution has been added to cover questions asked about this process.
CUSTOM PET ARCHIVE UPDATE
♦ New info about Custom Distribution and Custom Site Limit have been added.
CUSTOM CLOTHING ARCHIVE UPDATE
♦ New info about Custom Distribution and Custom Site Limit have been added.
Reasons for adding the Site Wide Custom Maker limit:
We can control the drop rate of Custom Makers to keep the queue manageable for our artists while also not making the drop rate extremely low.
It allows a better chance for the average user to obtain a custom maker due to the higher drop rate.
We can ideally control deflation by putting a limit on custom maker obtainment and stopping users from endlessly sinking potatoes into machines.



NEW RAVAN ITEMS
As promised, we worked on and completed 3 new Ravan Deity items that are now stocked in
Agnes' Winter Boutique
!
You can obtain the currency
- Scrap of Knowledge -
 to purchase these items by completing Pai's Seasonal Quests:
A Search for the UnknownPerusing the Constellation LibrarySecrets of the Tomes


Thank you for playing and supporting Dappervolk, we'll be back soon with more updates!