Hello everyone! We hope you've been doing well and staying healthy. We're back with a new update for 
October 2020
 to start off the autumn season in full swing!
Our fourth month of limited shops has arrived:
October's theme is the Circus Unicorn!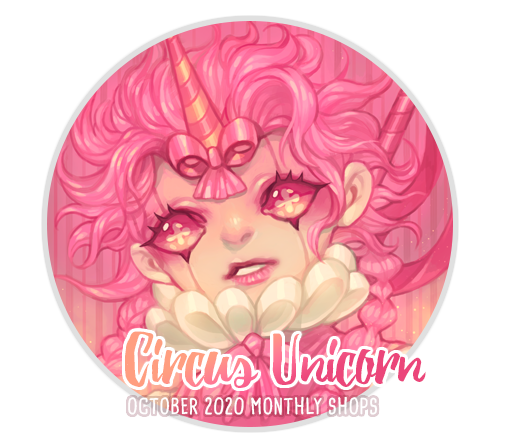 Obtained from an elusive ever changing place.
These items twinkle with the mischief of their makers, echoes
of laughter and discordant music sound faintly in the distance.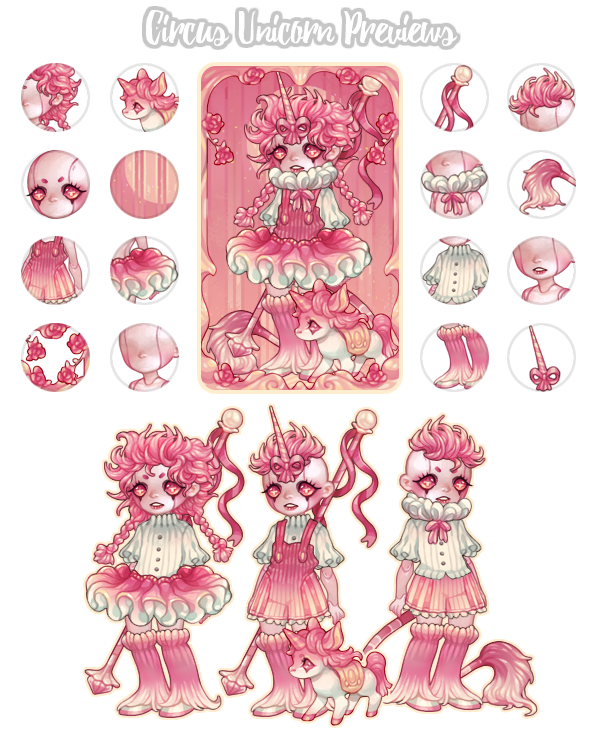 What are Monthly Shops?
Every month, Pai and Oran from Peddler's Port will have different sets of 8 items in their shops that will retire at the end of the month to be replaced by new stock.
These items are obtained from far away lands and follow the theme of the land they visited each month.
From this month onwards, the number of monthly items has slightly increased, both Oran and Pai now have 2 extra items compared to previous months!
All retired items from Monthly Shops will eventually be able to be obtained very rarely from Grandma Agnes later on.

How can I get to Peddler's Port?
Peddler's Port is a seaside location that you can unlock by going through the main storyline in Louise Hill. Once unlocked, you can visit Peddler's Port any time without using up a town hop!

Pai's Shop of Wonders
Pai will host these 8 items in their infinite stock shop this month for
200 turnips
each. If you spend 2000 turnips, you will be able to choose a free item of your choice! Free item claims will expire 3 months after obtaining them.

Agnes' Perpetual Shop
Agnes' shop is back with a chest that contains a set of
Pai's 8 shop items
for
1500 Turnips
, ideal for collectors who want a full set at a small discount.
What are Turnips?
Turnips are the untradeable premium currency of Dappervolk. You can purchase them with real life currency 
here
, as well as obtain them occasionally through gameplay.

Oran's Emporium
Oran's shop will be stocked with these 8 items for
9,000 potatoes
per spin!
These monthly shops will run until
October 31st
, after which they will be removed to house November's monthly items!
FIXES & UPDATES
The character creation lost clothing bug has been fixed! This means that all newbies joining after this point will no longer lose their pants/shoes/shirt. Since newbie items are easy to obtain, we've sent a 200 potato reimbursement to everyone who has created a character since launch. All newbie items can be purchased for this amount at Nico's Atelier. Animal class users were not affected by this bug and therefore did not receive reimbursement!
If your account was registered with the wrong birth date and you haven't yet, please send in a Ticket via the Ticket Desk so we can assist you in getting it changed! All affected users who have already received NPC birthday letters this year can use/claim the rewards from them, as it currently isn't feasible to reverse the distribution of all letters and rewards for everyone waiting on a birth date fix. If you've already sent in a ticket, we have it in our list and will be getting to it soon!
Users who completed Visindy's Pursuits have received a reimbursement of Visindy's Mirage Stalagmites due to a bug with the quest, where some players did not receive this reward for completing the quest.
Mini game Personal Bests score board has been fixed to no longer wipe scores, as originally intended!
Animated Background items can now be saved correctly as png files using the "Save PNG" function in the wardrobe. Previously, the layering was incorrect for this item type.
Pet item fetch quests should now only ask for common and non account bound items.
Banned users can no longer receive item/currency transfers.
Some minor pagination layout fixes have been applied through the site.
Charming natured pets will now correctly respond to the gift of a Feather Quill. The item was incorrectly causing a liked response, and is now a neutral gift.

To keep up to date with more of our smaller fixes and updates, feel free to subscribe to our
Official Changelog
!

WHAT WE'RE WORKING ON
We've been hard at work behind the scenes preparing multiple larger features as well as juggling various quality of life and bug fixes. Here's a look at what we're currently working on!
Guilds
Our Guild Creation preparation and bug testing was unfortunately delayed for a couple of weeks following the Summer Festivities due to server outages taking priority as well as other technical considerations in relation to other updates and fixes. We're now back on track and have entered our last phase of testing! We'll be ready to launch very soon if testing goes smoothly.
Custom Creator Queue
The Custom queue will officially be opening shortly after Guilds are fully launched, we're working on some additional backend considerations for this system as well as streamlining it more before launch. We'll also be taking into consideration ways to allow Kickstarter Custom Tier backers to indicate so in their request in order to give some priority to those that have been waiting since the Kickstarter.
Additional Adventuring Optimization
Our Adventuring developer is working on revamping the back-end image processing part of Adventuring in order to have it run more smoothly. This will also help to streamline our future Housing feature!
Housing
We've begun setting up and preparing our framework for Housing and refining our designs for it. We're excited to get more into it and give you more details and teasers as time goes on!
Theater
We're preparing an ad theater in which you can watch some advertisements each day in order to slowly accumulate some turnips as well as other perks in the future. This will give users another way to accumulate turnips for free as well as support site development with an additional stable source of revenue. More info on this feature as we work on it further!
Louise Hill Adventuring Riddle Contest
The Louise Hill Adventuring Riddle Contest is currently still being judged, this is an update for folks who are waiting on results. We'll be sure to inform everyone once the winning riddles are selected!



Thank you so much for playing and supporting
Dappervolk. We'll be back with more updates soon!