Hello everyone! Welcome to
December
, we hope you're staying warm with the coming of frosty days!
Our 30th month of limited shops has arrived:
December's theme is the Dragonglass Bowmaster!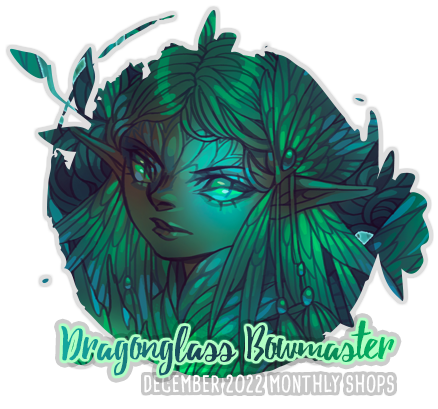 Ancient boughs of moss obscure the fluttering of glassy wings,
an emerald arrow flies. A deep rumbling in the earth denotes
the craft of a master.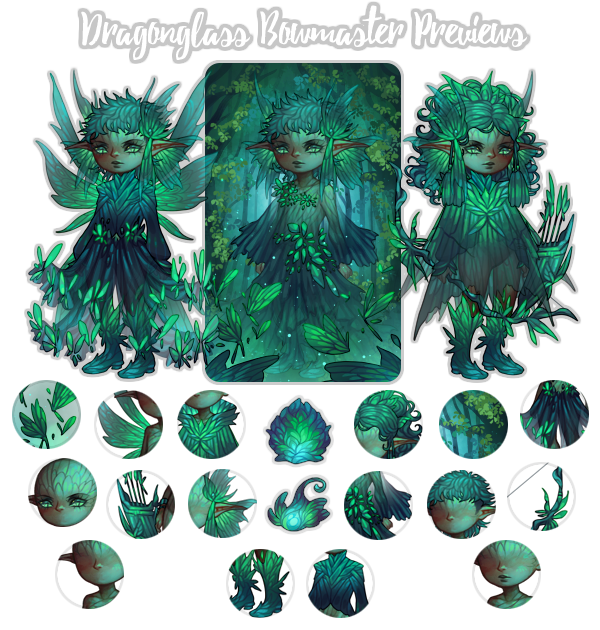 See Full Item Previews here.
What are Turnips & Monthly Shops? Click here for information!
This month we have special treats, 2 new pet species have arrived respectively in 
Pai's Shop of Wonders
 and
Oran's Emporium
!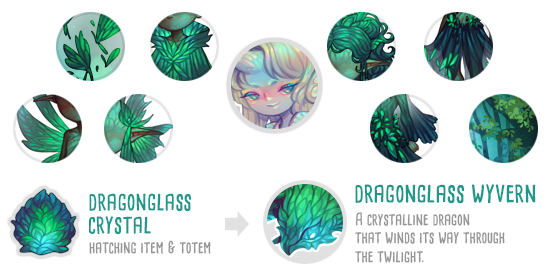 Pai's Shop of Wonders
Pai's Shop of Wonders
is stocking these
8 clothing items
 for 
200 turnips
 each, and 
500 turnips
for the hatching item.
A chest containing all 9 items is available at
1800 turnips 
 - a discount of
400 turnips
!
Dragonglass Bowmaster Mist 

♦

Dragonglass Bowmaster Cloak
Dragonglass Bowmaster Updo 

♦

Dragonglass Bowmaster Drapes
Dragonglass Bowmaster Wings 

♦

Dragonglass Bowmaster Headwings
Dragonglass Bowmaster Dress 

♦

Dragonglass Bowmaster Forest
Dragonglass Crystal

Agnes' Perpetual Shop
Agnes' Perpetual Shop
stocks a chest that contains a set of
Pai's 9 shop items
 for a discounted 
1800 Turnips.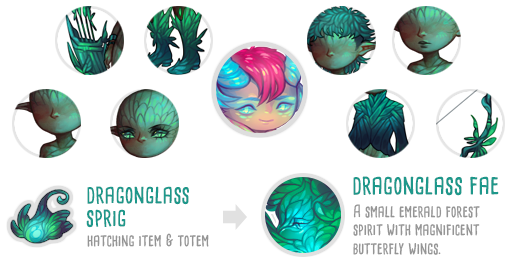 Oran's Emporium
Oran's Emporium
is stocking these
8 clothing items
this month for
9,000 potatoes
per spin!
Additionally, the
Dragonglass Sprig
hatching item is available in his
Bonus Prize
pool!
Dragonglass Bowmaster Quiver 

♦

Dragonglass Bowmaster Boots
Dragonglass Bowmaster Mullet 

♦

Dragonglass Bowmaster Lips
Dragonglass Bowmaster Skin 

♦

Dragonglass Bowmaster Peripherals
Dragonglass Bowmaster Tunic 

♦

Dragonglass Bowmaster Arc
Dragonglass Sprig
These monthly shop clothing items will run until
December 31st,
 after which they will be removed to house January's monthly items!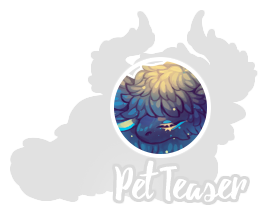 x3






With the arrival of the 
Winter 
season, a new 
Seasonal Pet
 has appeared!
The ingredients to make the hatching item can be found in Pai, Agnes, and Oran's shops' Bonus Prize pools.
The item alchemy recipe is available in your recipe book and shown above.
This Seasonal Pet will remain in the shops for 3 months and rotate out at the end of February to be replaced by a pet for the next season.
Seasonal pets are obtainable annually on a rotation! The hatching items can be alchemized at any time of the year.



2021 Winter Shard Pets
The 
Winter Shards
 from last year have returned to Pai and Agnes' Shops this spring at a flat rate of 500 turnips, and Oran's Bonus Claim. Alchemize all 
4 shards + a mixer potion
 to create the 
Winter Stone
 hatching item!
VAER'S DECEMBER
This month, the sleeping one's shadow lifts, giving way to a tidal wave from within the deep seas.

AD THEATER STREAK REWARD
Visit the
Theater
and click on the "
CHECK REWARDS
" button to see the new rewards!

DECEMBER ART DEVELOPMENT STREAMS
This month, there will be 2 different art development streams!
DECEMBER 13TH, 4PM DVT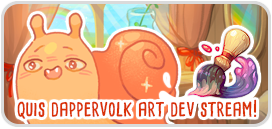 twitch.tv/dappervolk
DECEMBER 17TH, 8AM DVT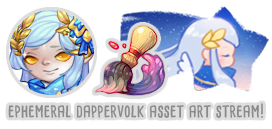 twitch.tv/ephemeral_ness
A status post with a link to the stream will be posted when each one begins!
We'll be working on wishes from the
Wishing Well
thread.
Hope to see you there!
CUSTOMS STATUS
In order to space out updates and prevent workload conflict, we've decided to make sure that each month's batch of customs is completed by the
middle
of the month rather than the end of the month. November's batch of customs will be coming out in the next few days, and then December's batch will be claimed and worked on!
ADVENT CALENDAR
We're planning a small Winter Advent Calendar quest to celebrate the season which will be released some time this month!
ROADMAP & BETA CHANGELOG
In between our various priorities, we've been slowly finishing up the roadmap, and will be ready to release it this month, along with the beta changelog!
THALIES EVENT
Even though we've been pluggin away at our Thalies event preparation, we're currently reconsidering its timing. The usual timing for Thalies' month would have been in September, but it's now December and the season wouldn't really match this deity's lore. We're discussing whether or not to keep this event for next year and instead plan something else that won't feel as out of place for the next event. We'll let everyone know what our decision is once we've arrived at it, thanks for hearing our thoughts!
SILVIE'S MINE BALANCING
Assets are 90% complete for our upcoming Silvie's Mine Balancing update! We just need to compile everything, adjust and test quest rebalancing, and input all assets. We're planning to get this update out some time next month.


As always, thank you so much for playing and supporting
Dappervolk. We'll be back with more updates soon!