Hello everyone! Welcome to
May
, we hope you're doing well and staying positive!
Our 23rd month of limited shops has arrived:
May's theme is the Little Forager!
A curious world of wonders, seen only by those who know where
to look. Right under your nose, or beneath your feet, even
around the corner, the small ones meet.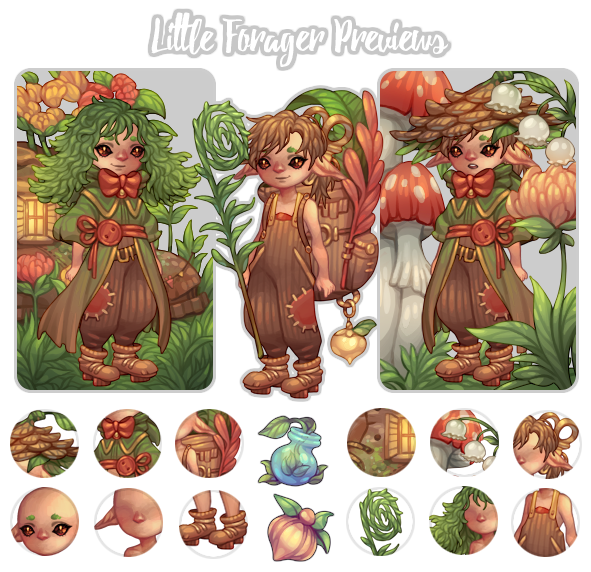 See Full Item Previews here.
What are Turnips & Monthly Shops? Click here for information!
This month we have a special treat, two new pet species in
Pai's Shop of Wonders
!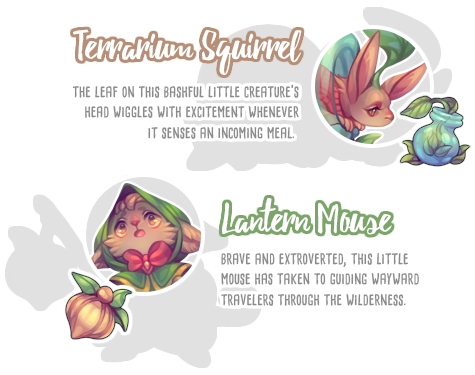 The Little Forager Terrarium and Lantern Berry hatch into the Terrarium Squirrel and Lantern Mouse pets.

Pai's Shop of Wonders
Pai's Shop of Wonders
is stocking these
6 items
 this month for
200 turnips
for clothing items and
500 turnips
for hatching items.
Little Forager Backpack ♦ Little Forager Home
Little Forager Coat ♦ Little Forager Camouflage
Little Forager Lantern Berry ♦ Little Forager Terrarium

Agnes' Perpetual Shop
Agnes' Perpetual Shop
stocks a chest that contains a set of
Pai's 6 shop items
 for a discounted 
1600 Turnips.

Oran's Emporium
Oran's Emporium
is stocking these
8 items
this month for
9,000 potatoes
per spin!
Little Forager Curiosity ♦ Little Forager Fiddlehead Staff
Little Forager Shrub Hair ♦ Little Forager Pinecone Hat
Little Forager Overalls ♦ Little Forager Shoes
Little Forager Skin ♦ Little Forager Clipped Ponytail

These monthly shop clothing items will run until May 31st, after which they will be removed to house June's monthly items!
AEOLIN SEASONAL QUEST & SHOP

Speak to the First Mate at the Shipwreck to begin the quest "The Captain Behind the Curtain"
There are 5 quests in total, to be unlocked in succession.
2 quests will be repeatable, allowing for progression and accumulation of currency.
The Neat Ship Shop is stocked with Aeolin items and will be open all month, taking Sand Dollars as currency!
Other than quests, Sand Dollars can also be obtained through Random Encounters, Adventuring, and Vaer Sea Forage.


AD THEATER STREAK REWARD
This month, the deity of lament remains in the seas, accompanied by the windy wanderer. Visit the
Theater
and click on the "
CHECK REWARDS
" button to see the new rewards!

MAY ART DEVELOPMENT STREAM
This month, the art development stream will take place on...
MAY 20TH, 4PM DVT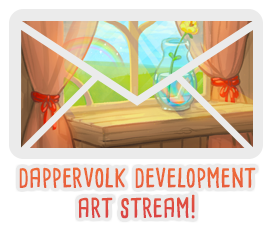 A status post with a link to the stream will be posted when it begins!
We'll be working on wishes from the
Wishing Well
thread.
Hope to see you there!
SPRING EVENT PREPARATION
After initially postponing the event launch date due to the size of our recipe balancing update, our preparation is coming along well! We'll be posting an announcement news post with details once we're ready. Thank you everyone for your patience, we're excited to spend spring time with you!
CUSTOM QUEUE
Last month, we needed to focus on other artwork so April's batch of new customs was pushed into May. We're planning to catch up on this delay by claiming an extra custom or two each month in which there's time to claim extras. This means that instead of just 6 claims in a month, there may be 7-8 for a few months going forward depending on our workload for that month.
QUEST BALANCING
We're preparing for our Louise Hill Daily Quest Rebalancing update this month along with the Spring Event. We're hoping to get the update out late this month while also not overlapping too much with other updates. Our plan after getting the first town's rebalancing done is to push out one town's rebalancing every month or two until all existing town dailies have been rebalanced, along with the additional stock in their shops.
BETA CHANGELOG & ROADMAP THREAD
These two items are on our to-do list, and will remain here until they are complete! Our aim currently is to get these items done once event preparation and some items above are in order.


As always, thank you so much for playing and supporting
Dappervolk. We'll be back with more updates soon!