Hello everyone! Welcome to
April
, we hope you're having a pleasant spring time!
Our 22nd month of limited shops has arrived:
April's theme is a Wisteria Garden!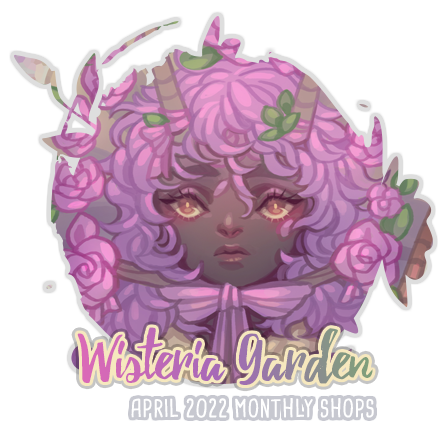 A fragrant breeze makes its way across the glade, sunlight dappling at your feet. All denizens of the secret garden are alone in good company.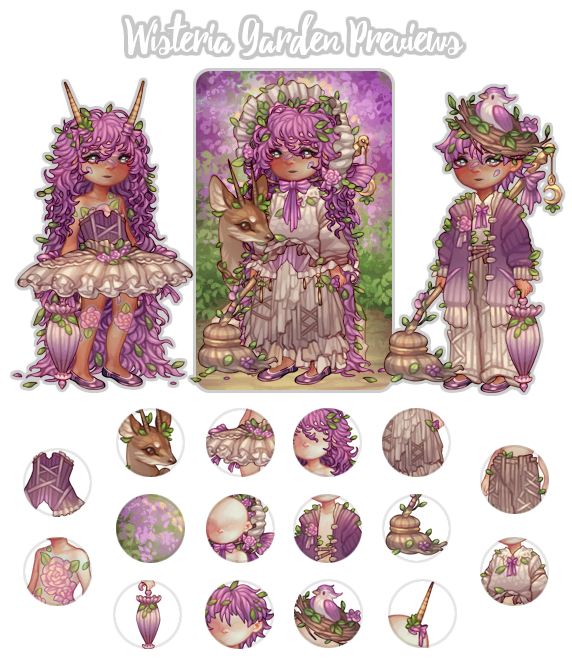 See Full Item Previews here.
Pai's Shop of Wonders
Pai is stocking these
8 items
 this month for
200 turnips
each.
Wisteria Garden Mural ♦ Wisteria Garden Bonnet
Wisteria Garden Floor Length Curls ♦ Wisteria Garden Doe
Wisteria Garden Mop ♦ Wisteria Garden Layered Skirt
Wisteria Garden Garden Petticoat ♦ Wisteria Garden Cardigan

Agnes' Perpetual Shop
Agnes' Perpetual Shop stocks a chest that contains a set of Pai's 8 shop items for a discounted 1500 Turnips.

Oran's Emporium
Oran is stocking these 8 items this month for
9,000 potatoes
per spin!
Wisteria Garden Umbrella ♦ Wisteria Garden Corset
Wisteria Garden Nest ♦ Wisteria Garden Trousers
Wisteria Garden Blouse ♦ Wisteria Garden Asymmetrical Bob
Wisteria Garden Floral Stencils ♦ Wisteria Garden Antlers

These monthly shop clothing items will run until April 30th, after which they will be removed to house May's monthly items!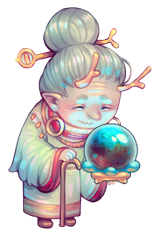 A STRANGE SKY
You feel a sense of dizziness as you look up into the world below, and wonder if this is all a dream. A strange light is emanating from a cellar door in a familiar port, you make your way inside...
The mysterious shop closes
APRIL 7TH, 11:59PM DVT
How to Obtain Cosmos Shards: 
Random Encounters, Random Item Alchemy, Adventuring, Agnes' Daily Gift Quest

AD THEATER STREAK REWARD
This month, the deity of lament slowly approaches. Visit the
Theater
and click on the "
CHECK REWARDS
" button to see the new rewards!

APRIL ART DEVELOPMENT STREAM
This month, the art development stream will take place on...
APRIL 8TH, 1PM DVT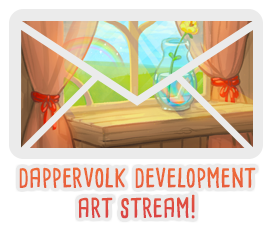 A status post with a link to the stream will be posted when it begins!
We'll be working on wishes from the Wishing Well thread.
Hope to see you there!
RECIPE BALANCING
Our artist team is working hard on completing all the assets for recipe balancing! We have a number of things left to do such as final assets, item sink quest planning, rearranging item pools, and shop planning, which we'll be focusing on this month along with event preparation. We're hoping to release the recipe rebalance some time this month before the spring event, wish us luck!
SPRING EVENT PREPARATION
We're currently working hard on the event overhaul coding, artwork, and storyline for the Spring event! Depending on how things progress, we will hold the event either near the end of April or in early May if we need the extra time. We'll keep you updated and post an announcement news post when we're ready to announce the event start date. We're excited to share the new event with everyone!
QUEST BALANCING
Our artist team's workload after the recipe rebalancing assets is the quest balancing new Louise Hill shop items, everything is progressing at a fair pace currently. We're also working on updating and testing rebalanced dailies for the town to make sure they work well and are well balanced.
BETA CHANGELOG & ROADMAP THREAD
These two items are on our to-do list, and will remain here until they are complete! Our aim currently is to get these items done once event preparation and some items above are in order.


As always, thank you so much for playing and supporting
Dappervolk. We'll be back with more updates soon!