Hello everyone, thank you so much for participating in our
Winter Festivities! We hope you had a great time exploring
Soll's Ruins and adventuring with Astra and Pellumi.
What was your favourite moment with them?

Here are some end of event stats you might be interested in!
In total, 1974 users wrapped up 66732 gifts in Pellumi's Sun Festival!

We'd like to extend a huge thank you to everyone who participated in our contests! We had such a fun time looking at and reading entries to the creativity contest and bauble contest, and the wide range of interpretations of the "Tale of Opposites" theme made for an exciting avatar contest to judge.

Here are the different winners we rolled or picked for each contest!

STAFF PICKS WINNERS
Here are our Staff Team's favourites! All of the submissions were amazing to go through and so difficult to narrow down, we had a great time picking them out! 
Click on each thumbnail to see the full submission.




Akilsa (#15714)  • Celetara (#12726) • Aremisu (#25941)





Ciphers (#5049) • Clifford (#12105) • ChaosArceus (#38112)




CloudyCatte (#12062) • CopperSunset (#7396) • Doku (#14706)





Notos (#40719) • Hummingbelle (#48417)  • Hopepunk (#64616)





Incognito (#62073) • itsminos (#50835) • Johannabelle (#31826)





Leonine (#7013)  •  LotusMoon (#9931) • Kanada (#2634)




McVee (#56009) • Melial (#61736) • MistyGold (#20588)





Noetsie (#18534)  • R000P (#13367) •  DrowntheFrowns (#30795)





Rosre (#16323) • Roxy_Lalonde (#34545) • Rylaigh (#5465)




tapirus (#22206) • Teamfailboat (#23909) • toe (#7335)
RAFFLE PRIZE WINNERS
Visit the
thread here
to see all Raffle Prize Winners!

All Pellumi's Pick winner submissions were added to the
Sun Festival Tree
as bauble wrapping selections! Visit the
thread here
to see all Pellumi's Pick Prize Winners!
RAFFLE PRIZE WINNERS
Visit the
thread here
to see all Raffle Prize Winners!
FINAL WINNERS
Here are the outfits that won each round of preliminary voting!



Akilsa (#15714) ♦ Celiane (#1661) ♦ abel (#142)


Susurrous (#12590) ♦ larkspur (#2071)
PRELIMINARY WINNERS
Here are the preliminary winners and their outfits selected for each round of voting!
VOTING ROUND #1
 ♦ 
VOTING ROUND #2 ♦ VOTING ROUND #3
VOTING ROUND #4 ♦ VOTING ROUND #5
RAFFLE PRIZE WINNERS
Visit the
thread here
to see all Raffle Prize Winners!

Here are some plans for improvements for future events like this that we've accumulated from hosting this event!
We'll be adding more areas to obtain embellishments such as more daily quest rewards, other site mechanics, etc! This way, users will have an easier time getting embellishments and wrapping up more presents for the pool.
We'll also be looking into some additional daily reward claims to add to the tree.
Mostly after introducing the reroll button near the end of this event and the improvements listed above, we just need to work on balancing improvements for next year!

Our next event is going to be a
Spring Event
some time in April with revamped co-op style mechanics! We'll be back with other updates in the meantime.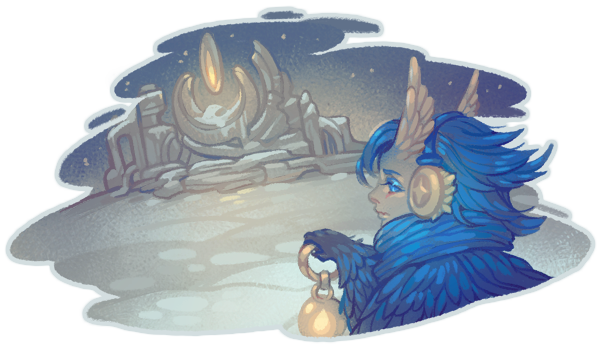 As you take one last look at Soll's Ruins with Astra, you can see a
small twinkling light at one of the stone peaks. It expands into several
blossoms - Pellumi is sending you off with some farewell fireworks.
You wave, hoping he can see as the morning sun slowly meanders
over the horizon, and the Ruins disappear without a trace.