Hello everyone! Welcome to
February 2022
, happy Lunar New Year! Hope you're having a lovely moonlit season.
Our twentieth month of limited shops has arrived:
February's theme is the Aurelian Soiree!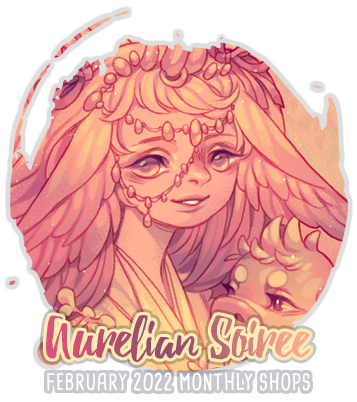 A tangle of lights denotes the loveliness of the evening.
The sun casts a wrinkle of pink hues over clinking cutlery,
a flurry of dancing and laughter unites.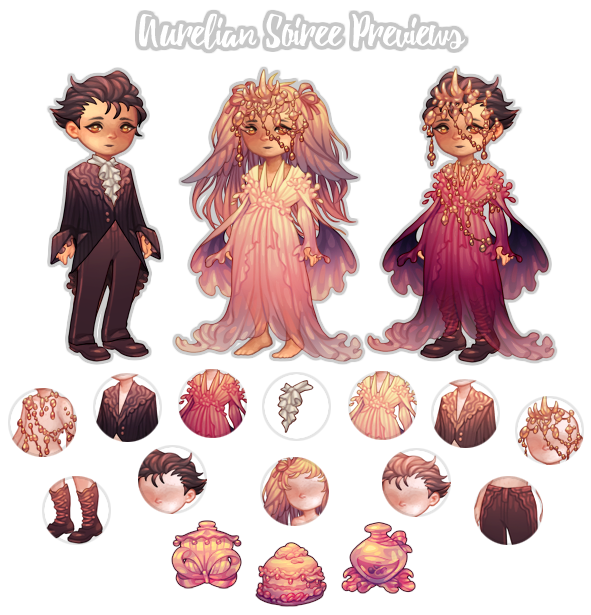 See Full Item Previews here!
This month's limited rewards are a little different from usual,
we're releasing a pet along with some totems and food alongside
the clothing set. We won't be doing this every month, but it
might be fun to change things up once in a while!


The Aurelian Carousel is available in Pai's Shop of Wonders and hatches into the Aurelian Piglet!

What are Monthly Shops?
Every month, Pai and Oran from Peddler's Port will have different sets of items in their shops that will retire at the end of the month to be replaced by new stock.
These items are obtained from far away lands and follow the theme of the land they visited each month.
All retired items from Monthly Shops will eventually be able to be obtained very rarely from Grandma Agnes later on.

How can I get to Peddler's Port?
Peddler's Port is a seaside location that you can unlock by going through the main storyline in Louise Hill. Once unlocked, you can visit Peddler's Port any time without using up a town hop!

Pai's Shop of Wonders
Pai will host these
7 items
 in their shop this month for varying turnip prices. A chest containing a set of Pai's items is now also available in their shop in addition to Agnes' Shop, to allow for more freedom in purchase making. If you spend 2000 turnips, you will be able to choose a free item of your choice! Free item claims will expire 6 months after obtaining them.

Agnes' Perpetual Shop
Agnes' shop stocks a chest that contains a set of
Pai's 7 shop items
 for 
1500 Turnips
, ideal for collectors who want a full set at a small discount. Agnes also has a Bonus Prize
function in her shop. For every 2000 turnips you spend in her shop from now on, you'll be able to claim from her Bonus Prize pool, which will fluctuate and grow with time.
What are Turnips?
Turnips are the untradeable premium currency of Dappervolk. You can purchase them with real life currency
here
, as well as obtain them occasionally through gameplay.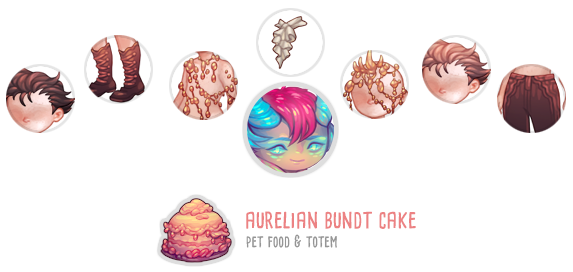 Oran's Emporium
Oran's chance shop will be stocked with these 8 items this month for
9,000 potatoes
per spin! Each time you spend 100k potatoes in Oran's shop, you'll be able to pick one free item from his Bonus Prize claim. Bonus Prize items may change or grow as time goes on.
These monthly shop clothing items will run until February 28th, after which they will be removed to house March's monthly items!

AD THEATER STREAK REWARD
This month, the seeker of knowledge surveys the landscape. Visit the
Theater
and click on the "
CHECK REWARDS
" button to see the new rewards!


RAVAN ♦ 
FEBRUARY SEASONAL CONTENT

Pai's seasonal quests about the deity of February are back for the month, along with an event shop containing Ravan's items!
You can start the quest "A Search for the Unknown" by going to Peddler's Port and clicking on Pai.
There are 3 quests in total: A Search for the Unknown, Perusing the Constellation Library (Repeatable, available throughout the month), and Secrets of the Tomes (Unlocks after a number of days completing the previous quest.
Agnes' Winter Boutique is open again for the month of February!
Stocked are Ravan's items, with a couple of additional items preparing to arrive a week into February!
Ravan's seasonal currency "Scrap of Knowledge" can be obtained from Pai's repeatable seasonal quest "Perusing the Constellation Library" as well as through several other regular site mechanics.

WHAT WE'RE WORKING ON
Here's a look into what we're prioritizing this month!
FEBRUARY ART DEVELOPMENT STREAM

This month, the art development stream will take place on...
FEBRUARY 7TH, 4PM DVT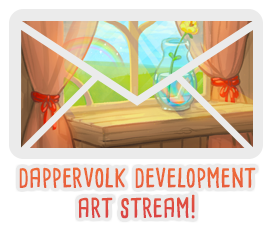 A status post with a link to the stream will be posted when it begins!
We'll be working on Ravan items as well as wishes from the
Wishing Well
thread. Hope to see you there!
CUSTOM LIMIT
We're nearly ready to launch the sitewide custom maker limits! We'll be raising the drop rate as well as adding some info about custom distribution to the archive pages along with this upcoming update.
RECIPE BALANCING
Our art team is diligently at work on the large recipe pool rebalancing update, we still have a ways to go but will be aiming to have all of the artwork done some time in April.
QOL & OTHER UPDATES
Our coders are working on several different updates along with some more basic fixes and QoL changes this month. These updates will include bulk item alchemy, a latest updates link bar with convenient links on the front page, event fixes, and other optimizations.
QUEST BALANCING
Along with our previously outlined update plans to help balance daily errands and reduce clicks, we're looking into a way to allow a reroll of a task in each errand. This should help with avoiding tasks you can't do as well as keep the balance of different tasks intact.
BETA CHANGELOG & ROADMAP THREAD
These two items are on our to-do list, and will remain here until they are complete!


As always, thank you so much for playing and supporting
Dappervolk. We'll be back with more updates soon!