Hello everyone! Welcome to
October
, we hope you're ready for the spooky season!
Our sixteenth month of limited shops has arrived:
October's theme is the Spirit Wayfarer!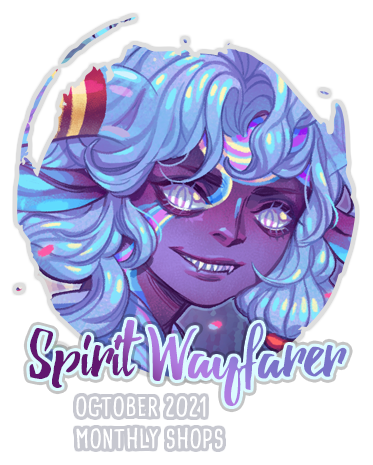 A procession of lonely spirits, they traverse the night sky.
Lost among wheeling stars, until the sound of a great gong rings in the
distance, and the rattling of bones. A boisterous procession
follows its leader, clamoring freely to its destination.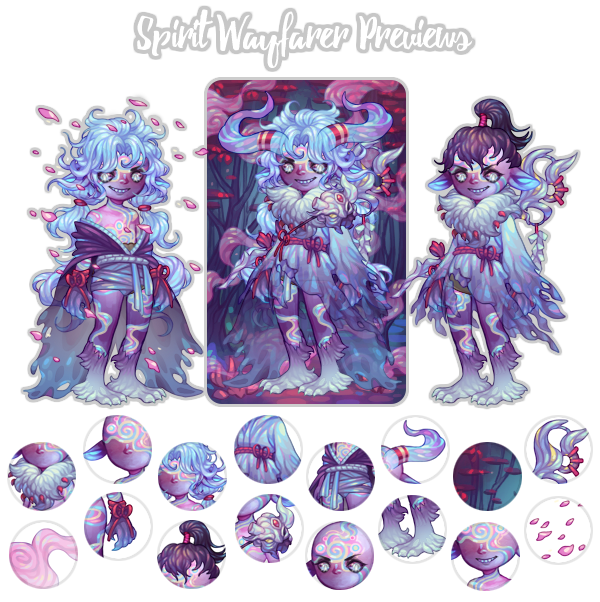 See Full Item Previews here!

What are Monthly Shops?
Every month, Pai and Oran from Peddler's Port will have different sets of items in their shops that will retire at the end of the month to be replaced by new stock.
These items are obtained from far away lands and follow the theme of the land they visited each month.
All retired items from Monthly Shops will eventually be able to be obtained very rarely from Grandma Agnes later on.

How can I get to Peddler's Port?
Peddler's Port is a seaside location that you can unlock by going through the main storyline in Louise Hill. Once unlocked, you can visit Peddler's Port any time without using up a town hop!

Pai's Shop of Wonders
Pai will host these
8 items
 in their infinite stock shop this month for
200 turnips
each. A chest containing a set of Pai's items is now also available in their shop in addition to Agnes' Shop, to allow for more freedom in purchase making. If you spend 2000 turnips, you will be able to choose a free item of your choice! Free item claims will expire 6 months after obtaining them.

Agnes' Perpetual Shop
Agnes' shop stocks a chest that contains a set of
Pai's 8 shop items
 for 
1500 Turnips
, ideal for collectors who want a full set at a small discount. Agnes also has a Bonus Prize
function in her shop. For every 2000 turnips you spend in her shop from now on, you'll be able to claim from her Bonus Prize pool, which will fluctuate and grow with time.
What are Turnips?
Turnips are the untradeable premium currency of Dappervolk. You can purchase them with real life currency
here
, as well as obtain them occasionally through gameplay.

Oran's Emporium
Oran's chance shop will be stocked with these ten items this month for
9,000 potatoes
per spin! Each time you spend 100k potatoes in Oran's shop, you'll be able to pick one free item from his Bonus Prize claim. Bonus Prize items may change or grow as time goes on.
These monthly shop clothing items will run until
October 31st
, after which they will be removed to house November's monthly items!

AD THEATER STREAK REWARD
This month, a fresh deity peeks over the undergrowth. Visit the
Theater
and click on the "
CHECK REWARDS
" button to see the new rewards!
WHAT WE'RE WORKING ON
Here's a look into what we're currently prioritizing, among other smaller bug and QoL fixes!
AUTUMN EVENT
We're hard at work on our upcoming
October Autumn Event
! This event will be our official third event type and will contain the following things:
Brand new Gathering & Growing event type
New Seasonal Mini Map
New Seasonal NPC
New Seasonal Event Quests
Event Shop with Clothing, Items, etc
Forum Contest Threads

The event will begin around the middle of October, an exact start time and further details will be posted closer to the start date!
WISHING WELL OCTOBER STREAM
This month, the art development stream will take place on...
OCTOBER 18TH, 4PM DVT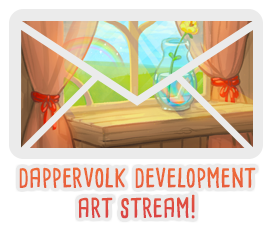 A status post with a link to the stream will be posted when it begins!
We'll be working on a new batch of wishes from the
Wishing Well
thread. Hope to see you there!
BETA CHANGELOG & ROADMAP THREAD
While we're working on our Official Roadmap Thread and Beta Changelog, here's a sneak peek at a few things we'll be prioritizing in our Roadmap!
Daily Quest Rebalancing
Reduce clicks on daily repeatable quests by lowering the number of times you can do them per day
Condense quest dialogue
Raise individual quest rewards
Streamline tasks and quest setup
Roll-out would be town by town in between other updates

Recipes & Reward Pools
We're also planning to rebalance the way certain RNG item pools work. Currently, recipe items take up a large amount of the drop rate on several reward pools on site. We're planning to move all recipes to a dedicated NPC shop, and updating each reward pool with more desirable items. We're also working on ideas for shops and NPC's that would allow you to recycle your superfluous items for special rewards.
NICO'S ATELIER UPDATE
One of our new artist team's first projects is to work on a large Nico's update with many items that have been requested by our community. We're looking forward to releasing this update some time next month if all goes well!



As always, thank you so much for playing and supporting
Dappervolk. We'll be back with more updates soon!