Hello everyone! We have a Wishing Well content update before September arrives, we hope you enjoy!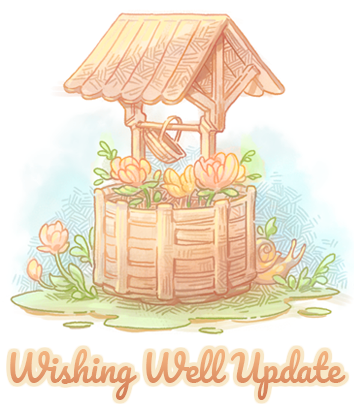 We had a lovely stream this month working on various wishes for
new items and pets. 19 new items and 1 pet are now available to be
obtained through gameplay!
If you would like to make a wish for a pet/item to be created for the
site, visit the
Wishing Well thread
!
NEWLY GRANTED WISHES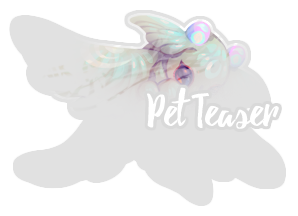 MOON MOTH PET SPECIES
Wished for by Adeline #909
A mystical new quaint pet flutters into view.
The Winged Moon Totem can be obtained through
random Item
Alchemy
,
Agnes' Daily Quest
,
Adventuring
, and
Ad Theater rewards
.
Try collecting and alchemizing them!









MESSY & SLEEK BOBS
Wished for by Firo #597
We came up with two different short hairstyles in many colours,
both with bangs long enough to cover the eyes. These will be
randomly stocking in
Nico's Atelier
every hour.



FRILLY APRONS
Wished for by Pink #129 and Softsy #153
Last month's cooking aprons have received some fancier cousins!
These aprons are obtainable through
specific alchemy recipes
.
The recipe items are found in the usual random alchemy and Agnes'
Daily Quest reward pools.
CUSTOM MAKER DROP BUG
Recently, a large number of custom makers dropped in one day, much more than should be possible. After taking some time to investigate this, we found a bug within the probability system when coupled with the luck stat. This issue didn't previously appear due to a combination of less spins being made in one day and less luck available to be equipped.
We've now fixed the bug so the drop rate should be back to normal again. There will not be any removal of custom makers from accounts or a rollback of any kind, as all makers were spun legitimately and it was an internal bug.
Later on, we'd like to add a few mechanics to make the custom maker obtaining system a bit more fair and rewarding:
An individual user cap where one user can only obtain a maximum of 1 custom maker per week/2 weeks.
A sitewide cap where a maximum amount of custom makers can be obtained from machines weekly. This count would be added to the site UI so users can keep track of whether or not the cap has been hit.
Occasional opportunities outside of spinning chance machines to obtain custom makers, such as raffles or contests.

As a large amount of custom makers were spun recently, we anticipate that the current custom queue will be longer for a few months. We are however confident that we will be able to catch up and maintain the queue with our current completion pace.

Thank you for the support and encouragement as always, we'll be back with more updates soon!