Hello everyone! Welcome to
August
, we hope you're doing well and staying healthy!
Our fourteenth month of limited shops has arrived:
August's theme is the Glasswork Artificer!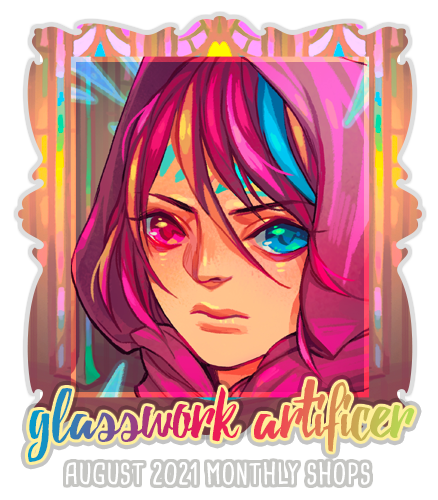 A blazing inferno, high stone towers, and the meticulous clanging of
expert artistry punctuate the murmurs of scientists and mages.
Tinted glass, crystals and gilding are inlaid with spells to improve their
resilience and vibrance. Great knowledge awaits those who
seek it with everlasting patience.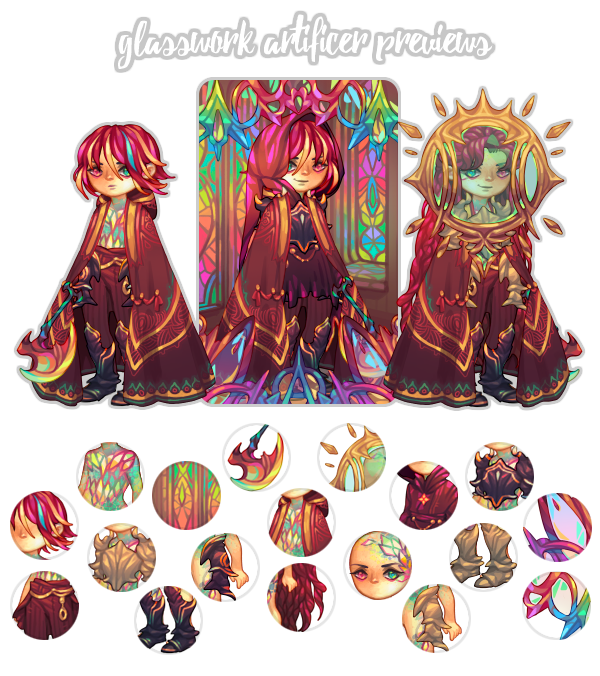 See Full Item Previews here!

What are Monthly Shops?
Every month, Pai and Oran from Peddler's Port will have different sets of items in their shops that will retire at the end of the month to be replaced by new stock.
These items are obtained from far away lands and follow the theme of the land they visited each month.
All retired items from Monthly Shops will eventually be able to be obtained very rarely from Grandma Agnes later on.

How can I get to Peddler's Port?
Peddler's Port is a seaside location that you can unlock by going through the main storyline in Louise Hill. Once unlocked, you can visit Peddler's Port any time without using up a town hop!

Pai's Shop of Wonders
Pai will host these 9 items in their infinite stock shop this month for 200 turnips each. A chest containing a set of Pai's items is now also available in their shop in addition to Agnes' Shop, to allow for more freedom in purchase making. If you spend 2000 turnips, you will be able to choose a free item of your choice! Free item claims will expire 6 months after obtaining them.

Agnes' Perpetual Shop
Agnes' shop stocks a chest that contains a set of
Pai's 9 shop items
 for 
1500 Turnips
, ideal for collectors who want a full set at a small discount. Agnes also has a Bonus Prize
function in her shop. For every 2000 turnips you spend in her shop from now on, you'll be able to claim from her Bonus Prize pool, which will fluctuate and grow with time.
What are Turnips?
Turnips are the untradeable premium currency of Dappervolk. You can purchase them with real life currency
here
, as well as obtain them occasionally through gameplay.

Oran's Emporium
Oran's chance shop will be stocked with these nine items this month for
9,000 potatoes
per spin! Each time you spend 100k potatoes in Oran's shop, you'll be able to pick one free item from his Bonus Prize claim. Bonus Prize items may change or grow as time goes on.
These monthly shop clothing items will run until
August 31st
, after which they will be removed to house September's monthly items!

AD THEATER STREAK REWARD
This month, a fiery deity rises to prominence. Visit the
Theater
and click on the "
CHECK REWARDS
" button to see the new rewards!


AUGUST SEASONAL QUEST
The
Lilia & Fantasia's Summer Festival
quest is also available again for the month of August, go to
Louise Hill
to begin the quest!
WHAT WE'RE WORKING ON
Here's a look into what we're prioritizing currently, along with smaller QoL fixes and updates. This month, we are focusing on our usual work as well as internal planning and UI creation for new features and updates in the future. Because of a large portion of the work being internal this month, we don't foresee any major updates besides some changelogs for fixes and small batches of new content.
WISHING WELL AUGUST STREAM
This month, the art development stream will take place on...
AUGUST 16TH, 1PM DVT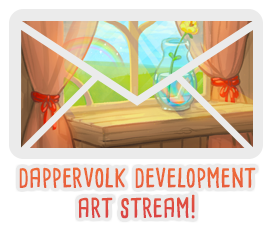 A status post with a link to the stream will be posted when it begins!
We'll be working on a new batch of wishes from the
Wishing Well
thread. Hope to see you there!
RULES UPDATE & FORUM EXPANSION
We'll be working on some small updates, elaborations, and additions to our Terms of Service, Rules of Conduct, and various forum guideline stickies so that they more completely cover various questions and issues that have come up over the past year. After we do this, we'll be adding some long awaited expansions of forum categories, such as adding an Events & Giveaways forum, Hangouts forum, etc!
INTERNAL PLANS & MOCKUPS
We'll be taking some time to work with our development team to plan out and create UI designs for various updates and new features that are moving up the todo list. We're excited to move into the next step of our development for many of these features that we've been waiting to work on and implement!
This includes but is not limited to
: Guild updates, new Autumn Event type, Housing, new Agnes related feature, QoL related updates to some existing features, Customs Market, Pet Accessory Market
Since this is an internal pre-coding process, there will likely not be any news or previews of these features just yet this month, we will update when work progresses further.
BETA CHANGELOG & RETROSPECTIVE
This item is still on our to-do list, and will remain here until it's complete!
ROADMAP THREAD
We'll be working on a Roadmap thread and planning out how to consolidate it with our existing priority lists in our monthly news posts and changelog posts. This update should make it easier to keep track of where the site is going and what's coming up on a more longterm basis. The Roadmap thread will shed light on our more longterm plans which includes things like the Vaer Quest updates, Balancing plans, new features and content, etc.




As always, thank you so much for playing and supporting
Dappervolk. We'll be back with more updates soon!