Hello everyone! We have some new functionality as well as content to release before August begins. Hope you enjoy!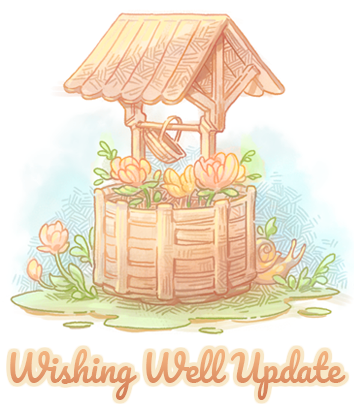 After our successful first wishing well stream, we've completed
9 new items that are now available to be obtained through gameplay!
More content will become available and updates will be
made as time goes on.
If you would like to make a wish for a pet/item to be created for the
site, visit the
Wishing Well
thread!
NEWLY GRANTED WISHES






JEWELED HORNS
Wished for by patpatity (#52179)
Dual horns bedecked with glittering gems are now obtainable
through 
Random Events
in certain towns, and occasionally through
Agnes' Daily Gift
(will be added at rollover tonight)! The black and
white horns can be crafted with alchemy recipes, good luck!



COOKING APRONS
Wished for by Pink (#129) and softsy (#153)
Cooking Aprons have arrived at
Nico's Atelier
, they are happy to
provide some clothing of utility and comfort. Nico's Atelier restocks
a random collection of their stock every hour, check in periodically
to obtain the aprons!






Introducing Custom Mirrors, items that allow the owner of a custom pet or clothing to create a copy/grant a hatch to themselves or another user. This allows for distribution of Custom content by users who wish to do so!

The Custom Pet and Custom Clothing mirrors are now stocked in Agnes' Perpetual Shop, and they can also be rarely obtained through the following site mechanics:
Agnes' Daily Gift quest, the chance to get one will be added tonight at rollover.
New birthday letter rewards from some Peddler's Port NPC's. Users who already reached the required affection but didn't get the letters yet will be retroactively rewarded. These letters are currently being written and will be added at a later date.

FUTURE PLANS
When more custom pets and clothing have been added to the site, we'll be working on launching a Customs Market which will help automate the custom purchase process for users to buy and sell copies at prices they decide on. This is also something we're looking into for Pet Accessories, to make the pet accessory feature more accessible for all users regardless of whether or not they're artists or frequent the forums.



Thank you for the support and encouragement as always, we'll be back with more updates soon!