A swift salty breeze brings respite to the hot sunny morning. The sound
of sea birds punctuate laughter and the occasional splash.

The festivities will be fully active for 2 weeks from:
JUNE 21ST 12AM - JULY 5TH 11:59PM DVT
The Event Quests, Event Shop, and Anniversary items will remain until
July 8th, 11:59PM
Welcome to Dappervolk's first Spring & Anniversary!
That's right, we're rolling both the spring and our first anniversary
festivities into one this year, all info is outlined below. We're so excited
for you to experience the fun with us!


JOHANESS FOUND AN EGG
Johaness has found a mysterious egg and wants your company while he waits for it to hatch. Humour him!
Roll tasks each day to help fill the progression bar and unlock progress in the story.
You can roll tasks up to 25 times per day, and each roll will give you a set of 3 tasks.
Gain points for each completed task and redeem prizes which will unlock throughout the event.
There will be overtime reward goals unlocked after the main event bar is filled, with rewards for these goals unlocking for all event participants!


To access the event quest, visit the new seasonal area - the
Shipwreck
! Go to the
World Map
and find it next to Aviar Cove.


Speak to the First Mate at the Shipwreck to begin the quest "The Captain Behind the Curtain"
There are 5 quests in total, to be unlocked in succession.
2 quests will be repeatable, allowing for progression and accumulation of rewards.



The Neat Ship Shop will open on the second day of the event on June 22nd at 12AM DVT.
The shop will remain open until July 8th at 11:59PM DVT.
Shop stock will include all seasonal spring clothing, totems, and more!
All rewards obtainable via the Co-op event page and quests will also be purchaseable in this shop.

WAYS TO OBTAIN SAND DOLLARS
Sand dollars are the currency for the Spring Event and will be obtainable the following ways:
Claiming prizes in the Johaness' Egg Hatch Co-op Event
Completing the Seasonal Event Quests, starting with "The Captain Behind the Curtain" at the Shipwreck
Adventuring Gifts and Bar Rewards
Playground Minigames
Random Encounters
Random Item Alchemy
Event Contest Participation Rewards


There is an
Avatar Dress Up Contest
and a
Creativity Prompt Contest
open throughout the event!
Click on the buttons below to visit them.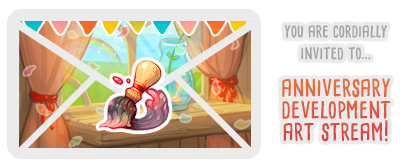 Tune in to our art development stream to chat with Dappervolk's Creator, Quis today at
3PM DVT
on
twitch.tv/dappervolk
!
We'll be drawing some new seasonal anniversary content to be made available on June 23rd on site.
Info on how to obtain these items will be posted when the Anniversary content is released!


Since the oldest pet will officially be 1 year old today, we'd like to inform you of a Pet Birthday feature!
On your pet's birthday, it will be showered with confetti on its profile page.
You can click on the birthday cake button to present your birthday pet with a gift from your inventory.
Each pet species has one most favourite item, which will give you extra affection and go towards a new achievement!
Presents which aren't the pet's favourite will be received depending on the pet's nature.
Happy birthday to all one year old pets!




Thank you so much for one year, we couldn't have gotten here without you!
Looking forward to many more onwards in the future.