Hello everyone! Welcome to
April
, we hope you had a lovely month and are looking forward to the change of the seasons.
Our tenth month of limited shops has arrived:
April's theme is the Elder Forest!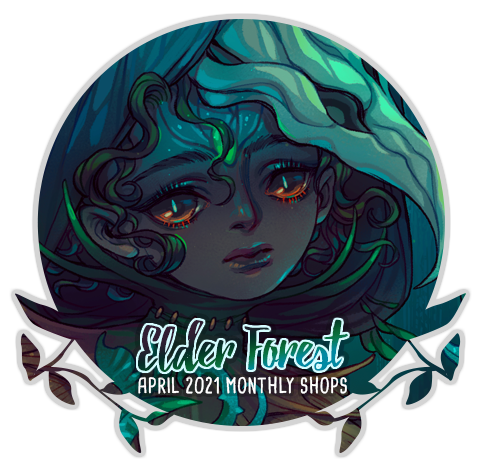 Approaching you in an endless silence is an unfathomable
forest, as old as the mountains, ancient like the stories.
Vegetation takes on a life of its own, undisturbed for centuries
beneath the deep shade of the canopy.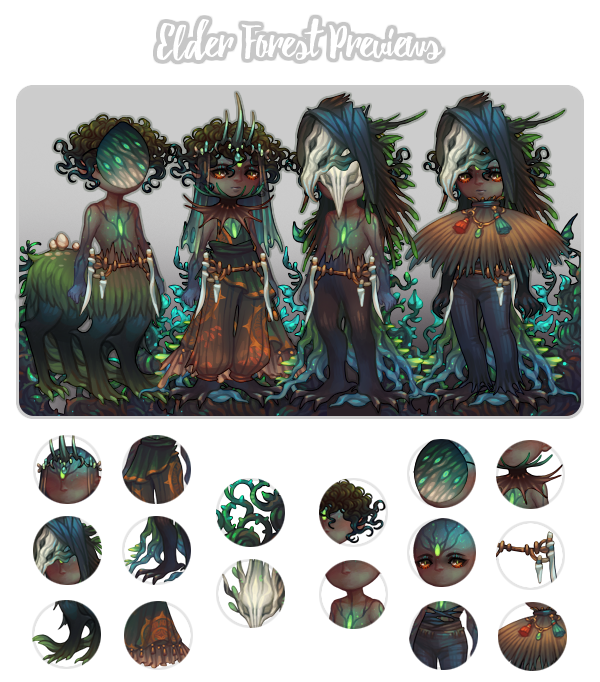 See Full Item Previews here!

What are Monthly Shops?
Every month, Pai and Oran from Peddler's Port will have different sets of items in their shops that will retire at the end of the month to be replaced by new stock.
These items are obtained from far away lands and follow the theme of the land they visited each month.
All retired items from Monthly Shops will eventually be able to be obtained very rarely from Grandma Agnes later on.

How can I get to Peddler's Port?
Peddler's Port is a seaside location that you can unlock by going through the main storyline in Louise Hill. Once unlocked, you can visit Peddler's Port any time without using up a town hop!

Pai's Shop of Wonders
Pai will host these 8 items in their infinite stock shop this month for 200 turnips each. If you spend 2000 turnips, you will be able to choose a free item of your choice! Free item claims will expire 3 months after obtaining them.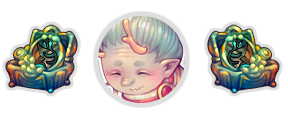 Agnes' Perpetual Shop
Agnes' shop stocks a chest that contains a set of
Pai's 8 shop items
for
1500 Turnips
, ideal for collectors who want a full set at a small discount. Agnes also has a Bonus Prize
function in her shop. For every 2000 turnips you spend in her shop from now on, you'll be able to claim from her Bonus Prize pool, which will fluctuate and grow with time.
What are Turnips?
Turnips are the untradeable premium currency of Dappervolk. You can purchase them with real life currency
here
, as well as obtain them occasionally through gameplay.

Oran's Emporium
Oran's chance shop will be stocked with these eight items for 9,000 potatoes per spin! Each time you spend 100k potatoes in Oran's shop, you'll be able to pick one free item from his Bonus Prize claim. Bonus Prize items may change or grow as time goes on.

These monthly shop clothing items will run until April 31st, after which they will be removed to house April's monthly items!

AD THEATER STREAK REWARD
This month, a new deity swims into your purview. Visit the
Theater
and click on the "
CHECK REWARDS
" button to see the new rewards!
WHAT WE'RE WORKING ON
Here's a look into what we're currently prioritizing, among other smaller bug and QoL fixes!
CUSTOM MAKER SUBMISSION
We are prioritizing our custom maker launch fully now after the Winter Event. Read our
FAQ
and
Submission Rules
here! We'll be doing our utmost to ensure a smooth launch as well as prioritizing our Kickstarter backers who pledged for the custom maker tiers.
VAER REEF QUEST UPDATE
As the Winter Event is now over, we're continuing forward with remaining adjustments and the affection milestone side quests for Vaer Reef!
KICKSTARTER DESIGNER CONTENT
Since the end of the Kickstarter before Beta, we've been in touch with our
Designer Tier
backers and have been slowly working with them in the background. Some opted to wait until launch to finalize their designs and some are still in the process of decision making, but we're slowly building up batches of completed content which will be added to the site periodically as things are completed! We're excited to showcase what our backers have come up with with the rest of the community. Designer Backed content (ie. Items, pets etc) will contain written credit in the form of the backer's username and ID.
BALANCING & CHANGELOGS
We've been working on a number of balancing plans and changelogs, including the following:
A roadmap for extensive adjustments to improve the game's flow and sense of reward, as well as boosting play longevity. This would include adjustments to daily quests, certain story quest requirements, and other QoL and content improvements. This is something in our priority list that may take some time as it requires a great deal of care put into balancing.
A changelog outlining a summary of every update/fix that occurred during closed development after Beta Testing ended.




As always, thank you so much for playing and supporting
Dappervolk. We'll be back with more updates soon!