Hello everyone! Happy New Year, we hope that everyone will have a wonderful 2021 full of healing and happiness. We're back with a new update for
January 2021
!  Our intrepid exploring peddlers return from a trip to the ice.
Our seventh month of limited shops has arrived:
January's theme is the Winter Scholar!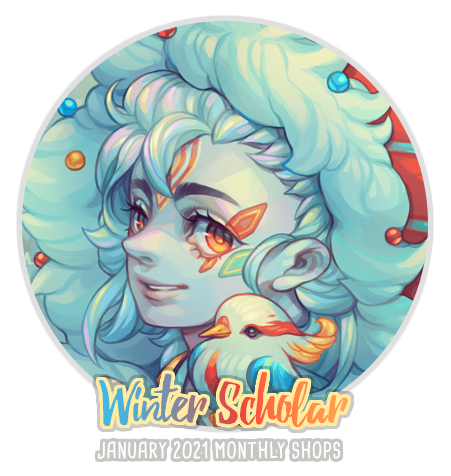 A vibrant shimmer of crystals is suspended in time. Winter winds
regale the curious traveler with songs and tales of ancient knowledge.
Treasures are there for the taking, if the great bell tolls nine.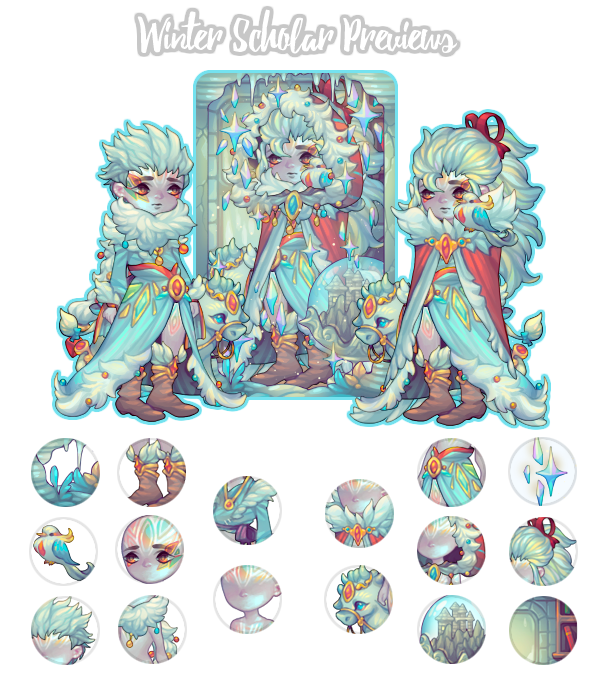 What are Monthly Shops?
Every month, Pai and Oran from Peddler's Port will have different sets of 8 items in their shops that will retire at the end of the month to be replaced by new stock.
These items are obtained from far away lands and follow the theme of the land they visited each month.
All retired items from Monthly Shops will eventually be able to be obtained very rarely from Grandma Agnes later on.

How can I get to Peddler's Port?
Peddler's Port is a seaside location that you can unlock by going through the main storyline in Louise Hill. Once unlocked, you can visit Peddler's Port any time without using up a town hop!

Pai's Shop of Wonders
Pai will host these 8 items in their infinite stock shop this month for
200 turnips
each. If you spend 2000 turnips, you will be able to choose a free item of your choice! Free item claims will expire 3 months after obtaining them.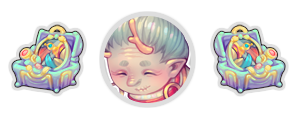 Agnes' Perpetual Shop
Agnes' shop stocks a chest that contains a set of
Pai's 8 shop items
for
1500 Turnips
, ideal for collectors who want a full set at a small discount.
What are Turnips?
Turnips are the untradeable premium currency of Dappervolk. You can purchase them with real life currency 
here
, as well as obtain them occasionally through gameplay.

Oran's Emporium
Oran's chance shop will be stocked with these eight items for
9,000 potatoes
per spin!
These monthly shops will run until
January 31st
, after which they will be removed to house February's monthly items!
AD THEATER STREAK REWARDS
We have plans to add seasonal and other bonus items to the Ad Theater reward streak over time. For now, the reward streak will include one of the month's seasonal deity items each month! Visit the
Theater
and click on the "
CHECK REWARDS
" button to see the new rewards!
UPCOMING UPDATES
Here's a quick look at the updates we're focusing on right now!
LOUISE HILL RIDDLE CONTEST RESULTS
We're still in the process of reviewing each submitted riddle to determine the winners, there were a record number of submissions during the contest which is why it's taken some time. We're hoping to put some more time into finalizing results this month as well as inputting all winning riddles into the Louise Hill adventuring area!
CUSTOM MAKER SUBMISSION
We've almost finished with the backend adjustments we wanted to make to the system so we're in final testing stages now! We'll let everyone know once the queue is ready to be opened officially. The custom maker submission rules will also be announced a week in advance of the queue opening!
NICO'S ATELIER UPDATE
We're currently working on all the new items we had planned for Nico's along with outline updates, we're aiming for an update some time in January!
WINTER FESTIVITIES
We're working on a Winter Festivities event which we're hoping to have take place some time in February, we're excited for everyone to be able to explore more of the seasonal lore! More info will be posted about this as we develop the event details.
HOUSING
We're progressing smoothly with establishing the basic frameworks and mechanics of housing at the moment, as our artists simultaneously work on assets! Eventually, once the feature gets closer to completion we'll be able to show everyone sneak peeks.



As always, thank you so much for playing and supporting
Dappervolk. We'll be back with more updates soon!