Hello everyone! We hope you all had a kind and healthy November. We're back with a new update for
December 2020
! As winter winds rise, we delve deep into the earth.
Our sixth month of limited shops has arrived:
December's theme is the Eclipsed Seraph!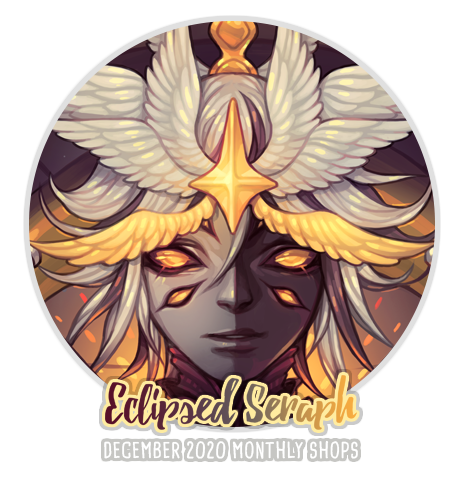 Beneath the great abyss, lies a well of sparks.
A grand trial of secrecy and a flurry of wings denotes your arrival.
Treasures abound are acquired at great cost to the explorer.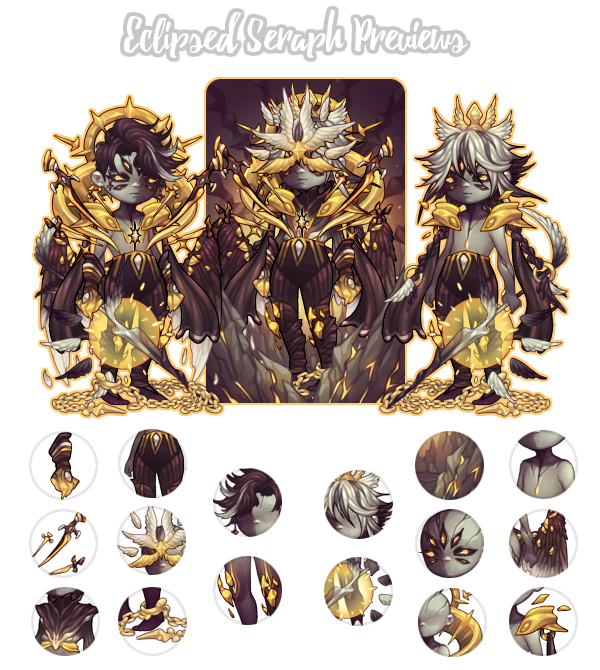 What are Monthly Shops?
Every month, Pai and Oran from Peddler's Port will have different sets of 8 items in their shops that will retire at the end of the month to be replaced by new stock.
These items are obtained from far away lands and follow the theme of the land they visited each month.
All retired items from Monthly Shops will eventually be able to be obtained very rarely from Grandma Agnes later on.

How can I get to Peddler's Port?
Peddler's Port is a seaside location that you can unlock by going through the main storyline in Louise Hill. Once unlocked, you can visit Peddler's Port any time without using up a town hop!

Pai's Shop of Wonders
Pai will host these 8 items in their infinite stock shop this month for
200 turnips
each. If you spend 2000 turnips, you will be able to choose a free item of your choice! Free item claims will expire 3 months after obtaining them.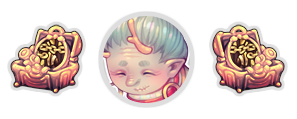 Agnes' Perpetual Shop
Agnes' shop stocks a chest that contains a set of
Pai's 8 shop items
for
1500 Turnips
, ideal for collectors who want a full set at a small discount.
What are Turnips?
Turnips are the untradeable premium currency of Dappervolk. You can purchase them with real life currency 
here
, as well as obtain them occasionally through gameplay.

Oran's Emporium
Oran's shop will be stocked with these eight items for
9,000 potatoes
per spin!
These monthly shops will run until
December 31st
, after which they will be removed to house January's monthly items!



NEW PET ACCESSORY MAKER BUNDLE
Agnes's Perpetual Shop now stocks a 
Pet Accessory Maker Bundle
 in which you can get
five
for
1750 turnips
! This means that each maker comes at a discount of 350 turnips if you buy the bundle.
WHAT WE'RE WORKING ON
Here's a quick look at the updates we're focusing on right now!
Adventuring Optimization
Our adventuring optimization is going through its final stage of testing now! If no new issues are found, we'll be able to reflect the new update onto the site with our next push.
Ad Theater
The Ad Theater is also nearly complete and going through its final testing and adjustments. More info on both of these updates in a new post once they're ready!
Nico's Atelier Item Update
We're planning to create some new items for Nico's Atelier as well as do outline adjustments on some of the existing items.
The types of items we're planning to add include:
Simple eyes & mouths (Smiles, closed eyes, etc)
Basic shoes
Patches & sparkles - To take the place of skin decor items that were previously able to be layered on top of clothing.
Glasses/Monocles
Earrings
Plain Skins

Custom Maker Queue
While finalizing the queue system, we've discovered a potential issue with our custom item system that we'd like to look over in order to safeguard our database for the future, we thank everyone for their patience as this gets resolved.
Vaer Reef Quest Update
We're working on final revisions, inputting, and testing the Vaer Reef Quest adjustments as well as Affection Milestone Side Quests. More info on this as we make progress!



Thank you so much for playing and supporting
Dappervolk. We'll be back with more updates soon!