Hello everyone! We hope you all had a safe, spooky, and lovely October. We're back with a new update for 
November 2020!
Our fifth month of limited shops has arrived:
November's theme is the Masked Wanderer!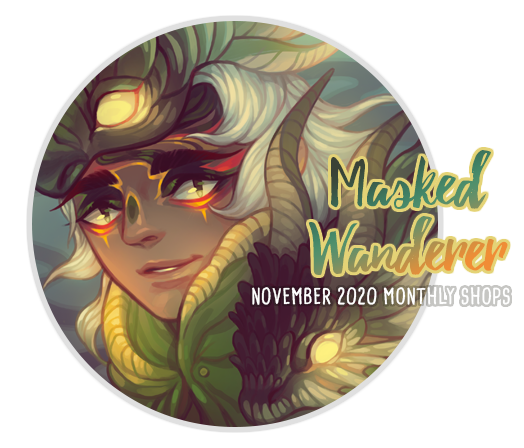 A fleeting thought takes you to a land of everchanging faces.
A great many magical spirits sing you their welcome, sharing their treasures.
Shy away and all will vanish like smoke in the wind.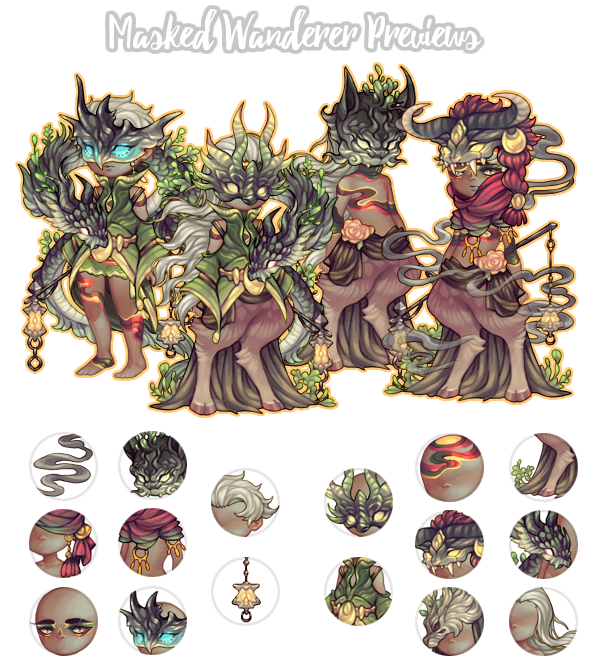 What are Monthly Shops?
Every month, Pai and Oran from Peddler's Port will have different sets of 8 items in their shops that will retire at the end of the month to be replaced by new stock.
These items are obtained from far away lands and follow the theme of the land they visited each month.
All retired items from Monthly Shops will eventually be able to be obtained very rarely from Grandma Agnes later on.

How can I get to Peddler's Port?
Peddler's Port is a seaside location that you can unlock by going through the main storyline in Louise Hill. Once unlocked, you can visit Peddler's Port any time without using up a town hop!

Pai's Shop of Wonders
Pai will host these 8 items in their infinite stock shop this month for
200 turnips
each. If you spend 2000 turnips, you will be able to choose a free item of your choice! Free item claims will expire 3 months after obtaining them.

Agnes' Perpetual Shop
Agnes' shop stocks a chest that contains a set of
Pai's 8 shop items
for
1500 Turnips
, ideal for collectors who want a full set at a small discount.
What are Turnips?
Turnips are the untradeable premium currency of Dappervolk. You can purchase them with real life currency 
here
, as well as obtain them occasionally through gameplay.

Oran's Emporium
Oran's shop will be stocked with these 8 items for
9,000 potatoes
per spin!
These monthly shops will run until
November 30th
, after which they will be removed to house December's monthly items!
NEW REFERRAL ITEMS
We've added a new set of Blue Royal items to the referral shop! We hope everyone enjoys the added variety.



WHAT WE'RE WORKING ON
Here's a quick look at how we're progressing and some things that we're prioritizing right now!

• Fall Festivities •
We're working on planning, writing, and drawing for a different kind of event for the Fall. This event will occur this month and will contain the following:
Many ways throughout the site's gameplay to collect an item that can be used as currency in an event shop open later in the event!
A big staff-run event thread with creativity prompts and surprise trivia based around Dappervolk's lore. Prizes will include raffled, staff picked, and participation rewards!
A series of autumn quests revealing more of Dappervolk's November deity and autumn lore.
Small social media giveaways and activities throughout the month!

Since we won't have a big event feature ready for this season, we're going to do our best to have fun with everyone with lots of different smaller activities! We'll tease an event start date via a
Status update
when we're ready with a concrete date!
Guild Fixed & Adjustments
For the last few days after Guilds were released, we've been hard at work making fixes to new bugs and small adjustments to balance and improve the feature. We've been updating a
Changelog post
with all changes that are being made as we make them.
Adventuring Optimization, Custom Queue & Ad Theater
These are the features we'll be working on in between getting the event ready. We'll need to coordinate the timing of releases with our event and overall schedule. More info on each update will be released as we get to finalizing release dates!
Smaller Bug Fixes & QoL Adjustments
Here's a non-exhaustive list of some smaller updates we'll be working on rolling out in between our larger updates.
Adding Stat Affinity/Weaknesses back in with the adjustments we have planned for the stat bonus task system.
Investigating some pet milestone related bugs in which a traded pet's milestones are missing.
Birthday letter bugs - We've addressed most of the wrong birthdate tickets, but we've discovered some new birthday related bugs that we're currently investigating before we do manual letter reimbursements.
Some minor pet accessory system UI fixes and adjustments to streamline the experience.
Some pet system related bug fixes that will improve the experience.
Text editor improvements, we're looking into updating our plugins related to our text parser which should make text editing and our bbcode more consistent.




Thank you so much for playing and supporting
Dappervolk. We'll be back with more updates soon!