A strange wind careens through the network of autumn branches like a lonesome spirit. It's calling you out to a distant sea, noticed only by those of magic in the deep forest.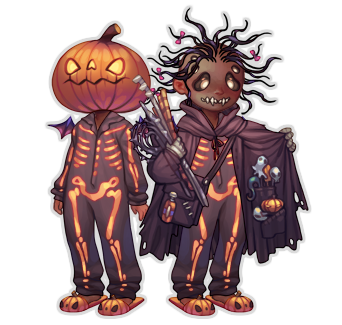 DURATION
October 25th to November 11th 2023 11:59AM DVT
Hello everyone, we hope you're having a lovely spooky season! As a surprise, a small seasonal event has appeared in
3's Forest
.
There are 
8 new clothing items 
which are now available through gameplay!

NEW ITEMS








Pumpkin Helm, Spindle Hair, Spooky Coat, Skeletal Onesie, Pumpkin Slippers, Compound Eyes, Crowded Fangs, Dainty Bat Wings
A collection of clothing items with a vaguely ominous air, but still fun loving and enjoying walks on the beach.
HOW TO OBTAIN THEM




The
magical denizens
of the
3's Forest
Region are giving out random rewards during their daily errands. Try it out for yourself!


Congratulations to Brave (#45333) and Abyssalsparten (#7285) for winning the thread and social media Custom Maker Giveaway grand prizes!


Thank you for playing and supporting Dappervolk as always, we'll be back with more updates!