Hello everyone! Welcome to
October
, we hope you're spookily having a good time and staying warm!
Our 40th month of limited shops has arrived:
October's theme is the Gilded Merchant!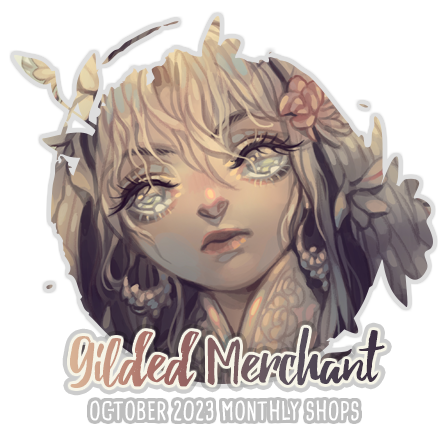 Silken leaves, boughs of fruit, velvet ribbons - all glint in the sunlight, merrily ready for your perusal this fine season.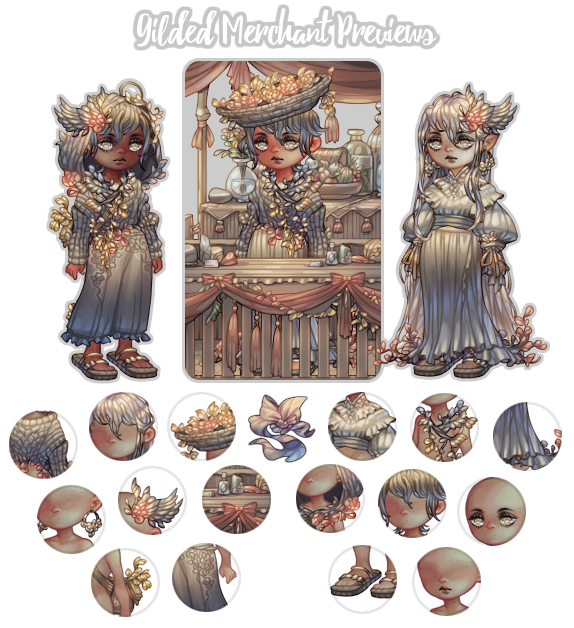 See Full Item Previews here.
What are Turnips & Monthly Shops? Click here for information!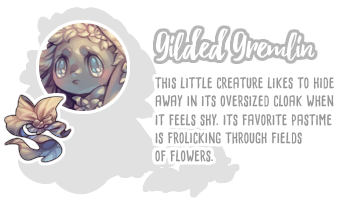 This month we have a special treat,
a new pet species
has arrived in 
Pai's Shop of Wonders
!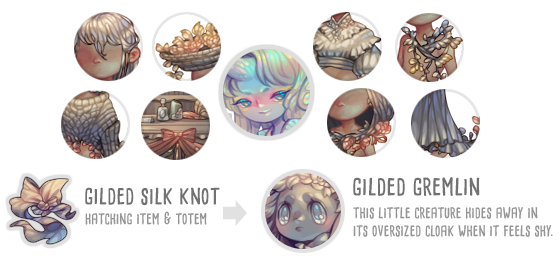 Pai's Shop of Wonders
Pai's Shop of Wonders
is stocking these
8 clothing items
 for 
200 turnips
 each, and 
500 turnips
for the hatching item.
A chest containing all 8 items is available at
1800 turnips 
 - a discount of 
300 turnips
!
Gilded Merchant ♦ Locks, Basket, Blouse, Scarf, Sweater, Stall, Hood, Skirt

Agnes' Perpetual Shop
Agnes' Perpetual Shop
stocks a chest that contains a set of
Pai's 8 shop items
 for a discounted 
1800 Turnips.

Oran's Emporium
Oran's Emporium
is stocking these
8 clothing items
this month for
9,000 potatoes
per spin!
Gilded Merchant ♦ Earrings, Trousers, Bob, Introspection, Lips, Hairpiece, Bag, Sandals
These monthly shop items will run until
October 31st,
 after which they will be removed to house November's monthly items!
PANN SEASONAL QUEST & SHOP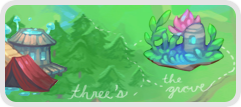 The tree of many branches withdraws its roots, to reveal a familiar grove.
Speak to Cro in the Grove to begin the seasonal quest "An Unfamiliar Path"
There are 3 quests in total, to be unlocked in succession.
The repeatable quest can be completed 5 times a day, allowing for progression and accumulation of currency.
The Grove Goods Shop is stocked with Pann's items and will be open all month, taking Grove Treasure as currency!
Other than quests, Grove Treasure can also be obtained through Random Encounters, Adventuring, and Turnip Thief.
Clue - Take note of who you travel with, what paths you take, and at what time you take them.



AD THEATER STREAK REWARD
Visit the
Theater
and click on the "
CHECK REWARDS
" button to see the new rewards!

OCTOBER ART DEVELOPMENT STREAMS
This month, the art development stream will take place on...
OCTOBER 17TH, 4PM DVT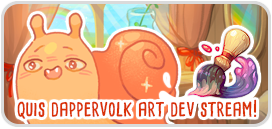 twitch.tv/dappervolk
A status post with a link to the stream will be posted when it begins!
We'll be working on wishes from the
Wishing Well
thread and some merch designs.
Hope to see you there!
UPCOMING PERMA-CONTENT
Now that the Kelbi event is underway and that segment of work is complete, here are some of our upcoming permanent update plans that we're working on in succession:
Aviar Cove Balancing Update
Major Potato Sinking Swamp Content - Frog alert!
Vaer Reef Balancing Update
Pet Milestone Reward Revamps
Misc Item Updates (Nico's, other Peddlers, Various item reward pools that need updates, etc)
New Towns, NPCs, and Content to further the storyline

UPCOMING CODING/FEATURE UPDATES
Here are feature updates, new features, and other areas of major coding that we're currently working on:
Marketplace Revamp
Pet Accessory Market
Custom Market
Eventually - Block System Update, Guild Revamp, QoL Updates, etc
See our Roadmap for a more detailed list.

EVENTUAL EVENT PLANS
Although we're currently going to be focusing on permanent content and feature updates in order to better balance the base game, we'll eventually return with more events in various formats. In the meantime during these next few months, we're planning to still hold various contests and giveaways for those who enjoy participating!
STAFF RECRUITMENT STATUS
We're finalizing emails to be sent out as soon as we can this month to our new team members. Apologies for the delay on this, we intended to get emails out earlier but with how busy event prep was and other circumstances we felt that it would be better to wait until we can give our full attention to training the new recruits. Thank you for your patience!
MERCHANDISE PLANS
You may have noticed that we were leisurely designing some potential merch on development streams, we're currently long term planning some exciting Dappervolk themed merch and may be holding some polls in the future before committing to designs, stay tuned!
We've also gotten in contact with Makeship - a pledge-based plushie making site and are planning out a potential future campaign. If all goes well, a Turnipling plushie could exist in the future!


As always, thank you so much for playing and supporting
Dappervolk. We'll be back with more updates soon!