Hello everyone! Welcome to 
January
and the new year, we hope you're doing well and thriving with renewed energy!
Our 31st month of limited shops has arrived:
January's theme is the Chrysanthemum Jeweler!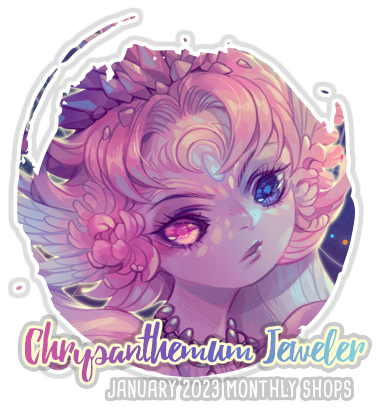 A chime echoes across the night sky, harkening you to the
cosmos above. Sculpted gems and fragrant petals accompany
your journey into memories you never had.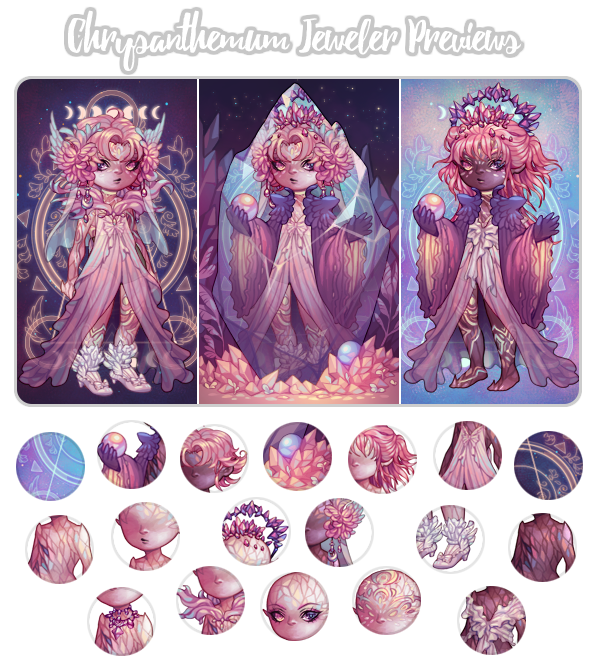 See Full Item Previews here.
What are Turnips & Monthly Shops? Click here for information!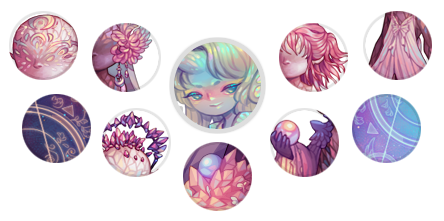 Pai's Shop of Wonders
Pai's Shop of Wonders
is stocking these 
9 clothing items
 for 
200 turnips
 each. A chest containing all 9 items is available at 
1600 turnips 
 - a discount of 
200 turnips
!
Chrysanthemum Jeweler ♦ Tattoos, Headdress
,
Twin Tails, Jeweler Gown
, 
Night Constellations, Crown
,
Crystallisk, Sleeves
,
Bright Constellations

Agnes' Perpetual Shop
Agnes' Perpetual Shop
 stocks a chest that contains a set of 
Pai's 9 shop items
 for a discounted 
1600 Turnips.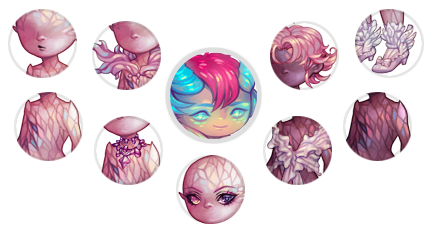 Oran's Emporium
Oran's Emporium
 is stocking these 
9 clothing items
 this month for 
9,000 potatoes
 per spin!
Chrysanthemum Jeweler ♦ Lips, Mantle, Bob Hairstyle, Boots, Rose Skin, Choker, Depths, Shawl, Night Skin
These monthly shop clothing items will run until 
January 31st,
 after which they will be removed to house February's monthly items!
SOLL'S STORY AND SHOP
Thick snow pristinely blankets a vast sandy expanse. The night sky
is illuminated by pinpricks of light, dwarfed by the moon's face.
You search at length for a sign of company.


Speak to Pellumi at Soll's Ruins to begin the seasonal quest "The Winter Sands"
There are 4 quests in total to be unlocked in succession.
2 of 4 quests are repeatable quests. "The Great Labyrinth" can be completed once a day while "A Moment's Respite" can be completed 3 times.
Pellumi's Antique Nook is open again for the month of January!
Stocked are Soll's items, with a new few new items available this year.
This shop takes Ruin Lights which are obtainable through the Seasonal quests in Soll's Ruins, Random Encounters, Random Item Alchemy, Adventuring Rewards, and the Starry Night Minigame



AD THEATER STREAK REWARD
Visit the 
Theater 
and click on the "
CHECK REWARDS
" button to see the new rewards!

JANUARY ART DEVELOPMENT STREAM
This month, the art development stream will take place on...
JANUARY 10TH, 4PM DVT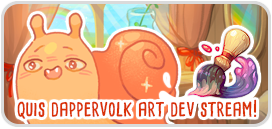 twitch.tv/dappervolk
A status post with a link to the stream will be posted when each one begins! We'll be working on wishes from the 
Wishing Well
 thread.
Hope to see you there!
SILVIE'S MINE BALANCING
We'll be releasing the Silvie's Mine Balancing update some time this month! Included will be daily quest rebalancing similar to our previous daily balancing updates, with tons of new NPC shop items and pets!
ROADMAP & BETA CHANGELOG
While we were planning to get these up last month, December was unexpectedly hectic IRL for much of our team. We'll be ready to release this and tick it off of our priority list at long last this month. Thank you for your patience all this time!
NEW WISHING WELL UPDATE
We have produced a pretty big stockpile of unreleased wishing well content, so we'd like to do a wishing well update some time this month!
WINTER EVENT PREPARATION
We've made the decision to postpone Thalies' story event to next fall, and tackle a more casual Winter Event instead. The plan for this will be a not too lore heavy event with gifts and fun new content all around. More news on this will arrive when we've progressed further!


As always, thank you so much for playing and supporting
Dappervolk. We'll be back with more updates soon!