Hi everyone! Thank you for partaking in the
Witches War
event. We had so much fun with everyone and hope you enjoyed your time dueling for your witch and experiencing the story. Congratulations to all of Mycel's friends and herself for clinching the final victory.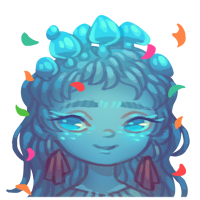 Thank you, my lovely companions. I never thought we could
work this hard for something together, but here we are.
I have a newfound trust in our ability to weather difficult
times, and it puts my heart at ease.




The event's conclusion brought in a new NPC and a new town, complete with daily errands and a full NPC shop, as well as possible future content!
The Stranger's initial quest line starting from "Amid the Murk and Mire"
You will unlock a shop at the quest's conclusion which requires Crimson Energy. 
"Traversing the Warring Forest" can be completed twice a day from now on, allowing new players to unlock the later content in 8 days instead of 15.
The New Daily Errands - Amount of Crimson Energy gained per quest completion has been raised from 5 to 10, negative route completion has been raised from 2 to 5.
The Various Witch Fruit hatchable recipes have been moved to the Officiator's Record Office
The Stranger's Wares shop has disappeared along with the Summer Seasonal clothing sets, which will return next year in a different event.
Crimson Energy can be obtained in: Random Encounters, Random Item Alchemy, Adventuring Encounters & Bar Rewards, 3's Forest Cleanup

All Witches War quests are now part of a
permanent side storyline
that will unlock the new area for players.
Any players that have not started the Witches War storyline can begin the "
Amid the Murk and Mire
" quest in their own time after completing the initial main storyline in
3's Forest
, namely after completing the "
Returning to Trout
" main quest.

Here are some end of event stats you might be interested in!

In total, 2243 users participated in obtaining 5,529,187 points in the The Witches War!




Mycel's team won the war with 1,869,794 points!





571,721 duels were carried out in total by all participants, and 69 team goal sheets were completed.
CONTESTS


68 users made 154 submissions in the Creativity Prompt Contest!
237 users made 590 submissions in the Avatar Contest Thread!

Here are the different winners we rolled or picked for each contest!

STAFF PICKS
Here are our Staff Team's favourites! All of the submissions were amazing to go through and so difficult to narrow down, we had a great time picking them out! 
Click on each thumbnail to see the full submission.



Ech0 (#23031), Grimling (#15239), Artheo (#62571)



 ouromouse (#52598), DrowntheFrowns (#30795), Aremisu (#25941)




Daisy (#8274), Johannabelle (#31826), Tealwing (#21495)





LostInTheEcho (#59085), Pigeon_wishes (#15479), Sherushi (#20587)





Virtsetti (#63476), Appendagechild (#30649), CopperSunset (#7396)





R000P (#13367), AttilaThePun (#58903), Cal (#7376)





Johan (#35278), CloudyCatte (#12062), daidark (#8219)





LotusMoon (#9931), Reineke (#63459), Leonine (#7013)





Teamfailboat (#23909), Celestilium (#37838), Sedd (#3136)





Ierie (#32918), Songdove (#48402), Ferris_ (#67993)





Villager (#41508), buggleboos (#12249), Lizzi (#3556)




Doku (#14706), Syrion (#67621)
RAFFLE PRIZE WINNERS
Visit the
thread here
to see all Raffle Prize Winners!

FINAL WINNERS
Here are the outfits that won each round of preliminary voting!




And (#1573) ♦ Spirit (#62948) ♦ Minaya (#35780)




ricecake (#46066) ♦ Toast (#56722)
PRELIMINARY WINNERS
Here are the preliminary winners and their outfits selected for each round of voting!
VOTING THREAD #1
♦ 
VOTING THREAD #2
♦ 
VOTING THREAD #3
VOTING THREAD #4
♦ 
VOTING THREAD #5
RAFFLE PRIZE WINNERS
Visit the
thread here
to see all Raffle Prize Winners!

Here are some plans for improvements for future events like this that we've accumulated from hosting this event!
This was our first event with permanent content unlocked as a result, and we're excited about new functions that we were able to code in for future storyline mechanics.
We're looking forward to doing more permanent content releases through events and a bigger variety of content!
Team Selection -  We'll be looking into ways to give users more agency and choice in the team they help, while still keeping the teams relatively balanced.
We'll be making it so that draws by default and draws from duel responses give different rewards, draws by default should give the default less amount while draws from duel responses should get a bigger reward.
We'll be looking at the daily losing team point gain boost to make it more balanced and give teams more agency.
We'll be looking into various ways to safeguard against cheating both through coding as well as balancing.
We'll be adjusting the team insignia code to allow them to linger for a time after the event ends.

Our next event will be a fun
Winter
themed event with a more casual, less lore-heavy story some time this season! More news is incoming when we're ready.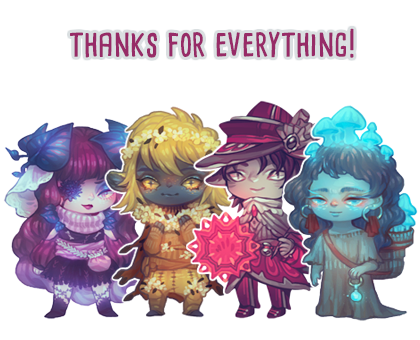 You look back on your time fighting for your witch, and see instead
the four witches now standing together, united.

They look content and wistful, perhaps hopeful for a better future.
The moment the hand of generosity and benevolence was
extended - that was the moment the illusion broke.