Hello everyone! Welcome to
October
, we hope you're having fun with the spookening season!
Our 28th month of limited shops has arrived:
October's theme is the Sunflower Daydream!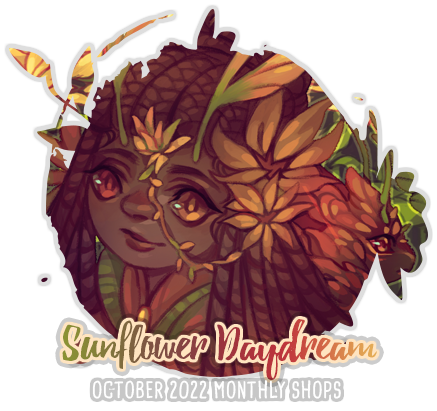 A hazy blue sky denotes the last vestiges of summer.
The warm breeze brings the nostalgic scent of decay amid
great golden blossoms towering above.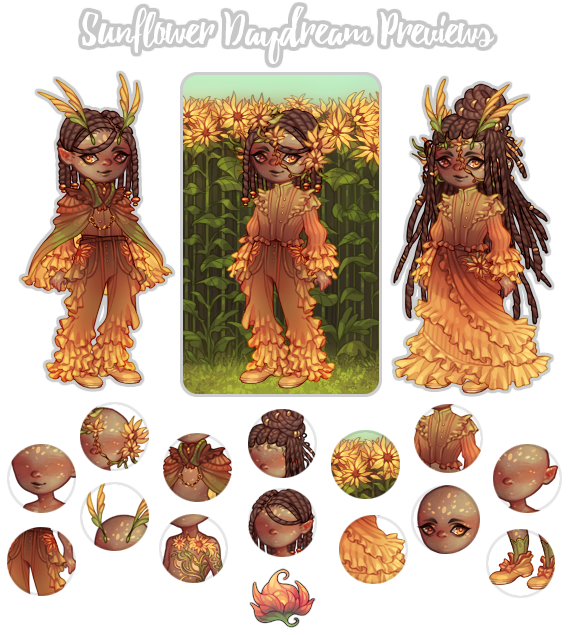 See Full Item Previews here.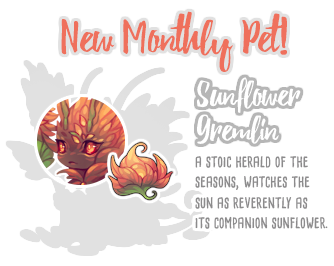 This month we have a special treat, a new pet species in 
Pai's Shop of Wonders
!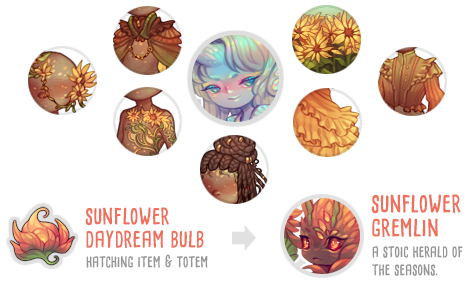 Pai's Shop of Wonders
Pai's Shop of Wonders
is stocking these
7 clothing items
 for 
200 turnips
 each, and 
500 turnips
for the hatching item.
A chest containing all 8 items is available at
1700 turnips 
 - a discount of 200 turnips!
Sunflower Daydream Garland 

♦

Sunflower Daydream Cape
Sunflower Daydream Skin Tapestry 

♦

Sunflower Daydream Long Braids
Sunflower Daydream Fields 

♦

Sunflower Daydream Ruffled Skirt
Sunflower Daydream Blouse 

♦

Sunflower Daydream Bulb

Agnes' Perpetual Shop
Agnes' Perpetual Shop
stocks a chest that contains a set of
Pai's 8 shop items
 for a discounted 
1700 Turnips.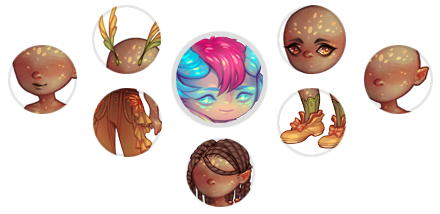 Oran's Emporium
Oran's Emporium
is stocking these
7 items
this month for
9,000 potatoes
per spin!
Sunflower Daydream Lips 

♦

Sunflower Daydream Antenna
Sunflower Daydream Trousers 

♦

Sunflower Daydream Beaded Braids
Sunflower Daydream Contemplation 

♦

Sunflower Daydream Shoes
Sunflower Daydream Skin

These monthly shop clothing items will run until October 31st, after which they will be removed to house November's monthly items!
PANN SEASONAL QUEST & SHOP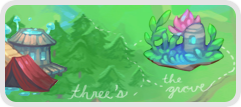 Speak to Cro in the Grove to begin the seasonal quest "An Unfamiliar Path"
There are 3 quests in total, to be unlocked in succession.
The repeatable quest can be completed 5 times a day, allowing for progression and accumulation of currency.
The Grove Goods Shop is stocked with Pann's items and will be open all month, taking Grove Treasure as currency!
Other than quests, Grove Treasure can also be obtained through Random Encounters, Adventuring, and Turnip Thief.
Clue - Take note of who you travel with, what paths you take, and at what time you take them.



AD THEATER STREAK REWARD
This month, the one of many paths recedes, giving way to the rambling tuber.
 Visit the
Theater
and click on the "
CHECK REWARDS
" button to see the new rewards!

OCTOBER ART DEVELOPMENT STREAM
This month, the art development stream will take place on...
OCTOBER 7TH, 4PM DVT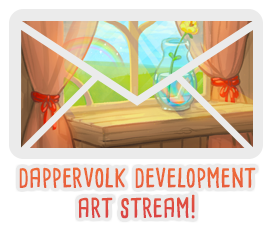 A status post with a link to the stream will be posted when it begins!
We'll be working on wishes from the
Wishing Well
thread and possibly some new Pann items.
Hope to see you there!
PIPELINE UPDATE
Due to various IRL circumstances last month in our team, some projects in the pipeline didn't go through as quickly as planned. We've regrouped to adjust our pipeline so here are some updates regarding our current workload!
September's Custom batch will arrive shortly this week, we needed to prioritize some other asset work so there was a slight delay. October's custom batch should proceed on schedule.
The Roadmap and post-beta Changelog threads are still being worked on, we're hoping to fit them in some time this month in between event and other update preparations.
The upcoming events (Team Event & Thalies Event) are in preparation stage and we're making good headway despite the difficulties. We're aiming to announce the team event some time this month.
All other upcoming priorities in last month's update are still our main priorities at this time - check our September news post for details.

Thanks for your patience throughout September, we're looking forward to getting back on track as soon as we can!


As always, thank you so much for playing and supporting
Dappervolk. We'll be back with more updates soon!