Hello everyone, thank you so much for participating in our
Spring Festival! We hope you had a lovely time at the
Lotus Pavilion, enjoying its many wonders.
What was your favourite moment?

Here are some end of event stats you might be interested in!
In total, 2674 users participated in obtaining 2,866,626 points in Lian's Lotus Festival!


178,053
 different pets were blessed during the festival, 189,524 blessings were created, and 4,842,673 tasks were completed!
COMMUNITY MILESTONES
The community came together and succeeded in smashing through 12 different milestones, exceeding our expectations greatly!
INDIVIDUAL MILESTONES
215 users got to the Signi's Tear milestone.
161 users got to the Signi's Whisper milestone.
92 users got to the Signi's Memory milestone.
59 users got to the Signi's Blessing milestone.
1589 users got to the Signi's Fortune milestone.
CONTESTS


78 users made 192 submissions in the Creativity Prompt Contest!
156 users made 388 submissions in the Avatar Contest Thread!

Here are the different winners we rolled or picked for each contest!

STAFF PICKS
Here are our Staff Team's favourites! All of the submissions were amazing to go through and so difficult to narrow down, we had a great time picking them out! 
Click on each thumbnail to see the full submission.




CloudyCatte (#12062), Aushy (#44305), BrightShadow (#14875)





Celestilium (#37838), Ciphers (#5049), beanskoala (#60830)





CopperSunset (#7396), DrowntheFrowns (#30795), Stringbean (#22202)





Forelle (#2921), Gil (#11280), FanficFox (#17757)





LotusMoon (#9931), Incognito (#62073), Melial (#61736)




Purpsy (#29360), LixxyIsLost (#63878), Loligo (#1255)





Noetsie (#18534), MouseyPounds (#23596), Oisin (#5731)





Shugakuma (#56642), PurplePinkBlue (#18237), Reineke (#63459)




Sovereignty (#19015), Notos (#40719), Comprehension (#5383)





buggleboos (#12249), McVee (#56009), mosswatching (#65940)





Leonine (#7013), Teamfailboat (#23909), toe (#7335)


sheepish (#5630), suiyue (#25954)
RAFFLE PRIZE WINNERS
Visit the
thread here
to see all Raffle Prize Winners!

FINAL WINNERS
Here are the outfits that won each round of preliminary voting!



Kyriathe (#24245) ♦ Celiane (#1661) ♦ Kitsuki (#39519)




pumpkins (#27825) ♦ Spirit (#62948)
PRELIMINARY WINNERS
Here are the preliminary winners and their outfits selected for each round of voting!
VOTING THREAD 1 ♦ VOTING THREAD 2 ♦ VOTING THREAD 3
VOTING THREAD 4 ♦ VOTING THREAD 5
RAFFLE PRIZE WINNERS
Visit the
thread here
to see all Raffle Prize Winners!

There was a timezone related mix-up with sorting contest entries which caused some entries in the final few hours before submissions closed to be marked as late and therefore not rewarded until now.

To make up for it, we've decided to reward all mistakenly late entries with a
Carved Lotus Bud
 as a participation reward. These rewards are being distributed in place of expiring event currency so that the participants can make use of them. We apologize for the mix-up!
We'd also like to reward a few extra creativity prizes from the missed portion of contest entrants, we loved these entries and are so glad they qualify for prizes!
SPECIAL WINNERS


Johannabelle (#31826) • L1ttl3W4nderer (#65580)

Each special Creativity winner received: 




Pet Accessory Maker, 30 Day Premium Badge, Porcelain Scale Totem, Carved Lotus Bud

Here are some plans for improvements for future events like this that we've accumulated from hosting this event!UI IMPROVEMENTS
We're planning to make changes to the event page UI in order to make it much easier to understand. Here are some of the changes we have planned:
We'll be moving certain information and grouping it in a more coherent manner. The amount of satchels in your inventory will be shown under the donate button, the pet blessing timer will be added into the pet interaction section. Certain areas of text will be modified to be more clear.
We'll be moving the contribute section above the track record section. Displaying the "your points" and "your tasks" tabs side by side will make spacing more compact for less scrolling, as well as make this section more readily available.
We'll be adding a progress bar under pet images for blessed pets to show how far their blessings are from being collectable.
We'll be moving personal tier milestone details above community milestone details and making all of the tier info more compact for less scrolling.

MECHANIC IMPROVEMENTS
We're planning to have it so that different tasks can have different point values so that more difficult tasks can accordingly receive more points.
We'll be looking at the item donation system and working on more clarity and balance.
We're planning to balance the community and personal milestones more evenly next year now that we've tried out the revamped system this year.
A few added mechanics such as "bless a pet" as a tracked task type, and additional daily donation rewards could be fun additions.
We're planning to look at the "visit random pet" system to see if we can make pet blessings feel less random and more efficient for recipients, such as prioritizing random active pets instead of just any pet.

Our next event is going to be a
Summer Event
some time in August with a brand new team based event type, with an unconventional non-deity based storyline!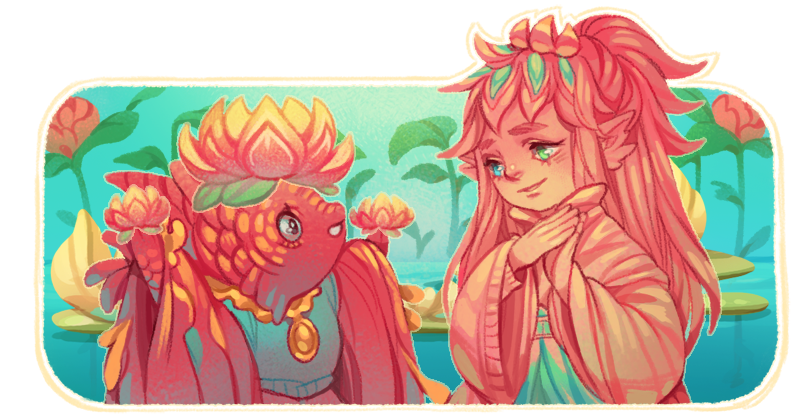 Lian claps happily at Poe's latest display, this time several ornate
lotus blossoms are resting on her head and hands, blending into the
pond's scenery.
"You just wait Miss Shui, I'll be back later with more tricks up my sleeves!"

Lian smiles contentedly and states that she will wait patiently for Poe's
next performance, which is sure to be exciting considering how much
room is in her sleeves.