Hello everyone! Welcome to
July
, we hope you're having a fun summer staying out of the heat!
Our thirteenth month of limited shops has arrived:
July's theme is the Mordant Advisor!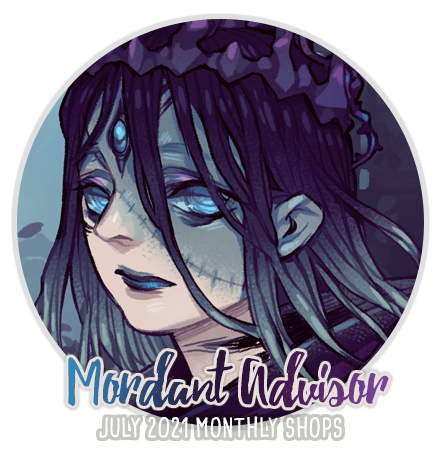 The clanging of a forlorn bell sounds, not tolled by any person, but by
the reaching arms of the wind. Distant howls mix and blur into the
sounds of the storm, perhaps simply a thought. A respite against the
cold is taken despite dire counsel.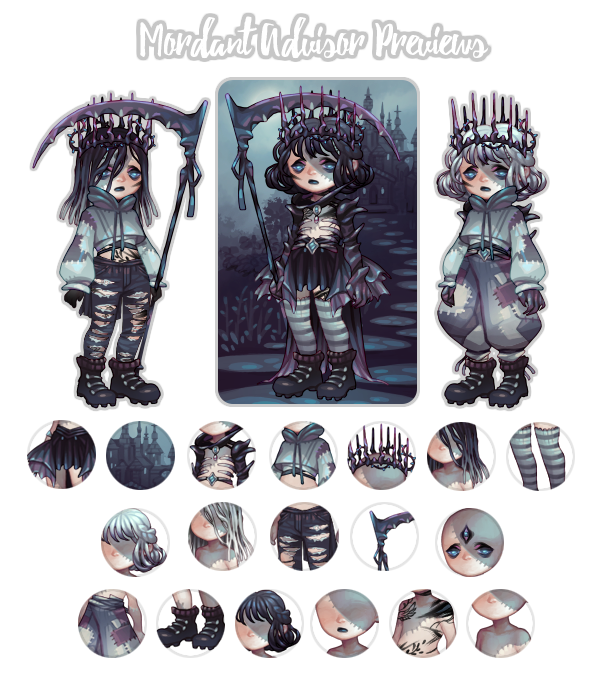 See Full Item Previews here!

What are Monthly Shops?
Every month, Pai and Oran from Peddler's Port will have different sets of items in their shops that will retire at the end of the month to be replaced by new stock.
These items are obtained from far away lands and follow the theme of the land they visited each month.
All retired items from Monthly Shops will eventually be able to be obtained very rarely from Grandma Agnes later on.
How can I get to Peddler's Port?
Peddler's Port is a seaside location that you can unlock by going through the main storyline in Louise Hill. Once unlocked, you can visit Peddler's Port any time without using up a town hop!

Pai's Shop of Wonders
Pai will host these 10 items in their infinite stock shop this month for 200 turnips each. If you spend 2000 turnips, you will be able to choose a free item of your choice! Free item claims will expire 6 months after obtaining them.

Agnes' Perpetual Shop
Agnes' shop stocks a chest that contains a set of
Pai's 10 shop items
 for 
1500 Turnips
, ideal for collectors who want a full set at a small discount. Agnes also has a Bonus Prize
function in her shop. For every 2000 turnips you spend in her shop from now on, you'll be able to claim from her Bonus Prize pool, which will fluctuate and grow with time.
What are Turnips?
Turnips are the untradeable premium currency of Dappervolk. You can purchase them with real life currency
here
, as well as obtain them occasionally through gameplay.

Oran's Emporium
Oran's chance shop will be stocked with these eight items this month for
9,000 potatoes
per spin! Each time you spend 100k potatoes in Oran's shop, you'll be able to pick one free item from his Bonus Prize claim. Bonus Prize items may change or grow as time goes on.
These monthly shop clothing items will run until
July 31st
, after which they will be removed to house August's monthly items!

AD THEATER STREAK REWARD
This month, a new deity slinks into view. Visit the
Theater
and click on the "
CHECK REWARDS
" button to see the new rewards!
WHAT WE'RE WORKING ON
Here's a look into what we're prioritizing currently, along with smaller QoL fixes and updates. This month, we'll be focusing on maintaining our routine art asset duties including monthly sets and the custom queue, and various updates outlined below.
CUSTOM PET & ITEM COPY MAKERS
This feature is something we'll be looking to release this month, along with our second completed batch of custom requests! Here are some details on what the feature will be like:
The functionality to duplicate custom items/pets will be added to special on site items.
These items will be obtainable from Agnes's shop as well as occasionally through gameplay.
ARTIST HIRING
We're getting ready to open artist applications this month! We're looking to assemble a team of onsite artists to slowly train into their individual roles. It will also be greatly helpful to have a team to bounce ideas around creatively with. The application requirements will be having a portfolio to showcase your general artwork as well as filling out a form outlining some info on yourself and what you're interested in. More details will be made available when artist applications are open.
WISHING WELL THREAD
We're planning to start a Wishing Well thread in which users can post wishes for items or pets they would like to see on site. We'll then be picking out some wishes to fulfill each month and drawing them in our development streams.
DEVELOPMENT STREAM
We'll be hosting a monthly development art stream from now on! This month, the art stream will take place on:
JULY 15TH, 3PM DVT
A status post with a link to the stream will be posted when it begins!
BETA CHANGELOG & RETROSPECTIVE
We're still working on assembling our changelog from closed development, and we're planning to include a retrospective on what was accomplished, what went wrong, and what we learned for the future. This is something we're working on, but we're not sure if it will be posted this month. When it is, it will be presented in either the changelog or in a new thread depending on length.
ROADMAP THREAD
While working on our balancing roadmap, we decided that it might be beneficial to set up a general roadmap thread. It would be updated periodically with adjustments and additions as time goes on. It would contain an itemized list of each future update we'll be focusing on in succession. For now, we've been including our goals and priorities for the month in each monthly news post, as well as in our Changelog thread.




As always, thank you so much for playing and supporting
Dappervolk. We'll be back with more updates soon!